It's the perfect time of year for a supernatural/horror novel by Michael Koryta, writing as Scott Carson.The Poisoned Pen recently held a virtual event on release day for Carson's Where They Wait, co-hosted by Richard Chizmar, You can order a signed copy of Where They Wait through the Web Store. https://bit.ly/2P9S4gb
Here's the summary of Where They Wait.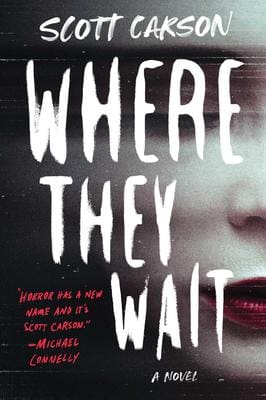 "Tense and twisty." —Charlaine Harris, #1 New York Times bestselling author of The Southern Vampire Mysteries
A new supernatural novel about a sinister mindfulness app with fatal consequences from the New York Times bestselling author of the "grips from the first page" (Stephen King) thriller The Chill.
Recently laid-off from his newspaper and desperate for work, war correspondent Nick Bishop takes a humbling job: writing a profile of a new mindfulness app called Clarity. It's easy money, and a chance to return to his hometown for the first time in years. The app itself seems like a retread of old ideas—relaxing white noise and guided meditations. But then there are the "Sleep Songs." A woman's hauntingly beautiful voice sings a ballad that is anything but soothing—it's disturbing, and more of a warning than a relaxation—but it works. Deep, refreshing sleep follows.
So do the nightmares. Vivid and chilling, they feature a dead woman who calls Nick by name and whispers guidance—or are they threats? And her voice follows him long after the song is done. As the effects of the nightmares begin to permeate his waking life, Nick makes a terrifying discovery: no one involved with Clarity has any interest in his article. Their interest is in him.
This "taut, creepy techno-chiller that will leave you hearing ghosts" (Paul Tremblay, author of Survivor Song) is the ultimate horror read for our times.
---
Scott Carson is the pen name for a New York Times bestselling author and screenwriter. He lives in New England.
---
You can hear about Where They Wait, and also learn why Michael Koryta writes as Scott Carson if you watch the virtual event.