Alex Schulman's The Survivors marks his international debut. The Swedish author was recently interviewed by host Ivy Pochoda for an event for The Poisoned Pen. You can buy copies of The Survivors through the Web Store. https://bit.ly/2ZYL123
Here's the description of The Survivors.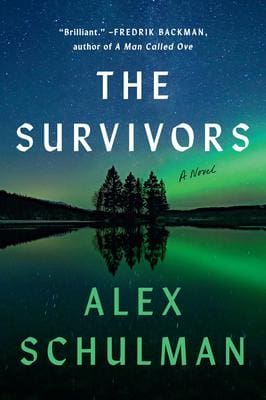 INTERNATIONAL BEST SELLER "¢ A gripping tour de force in which three estranged brothers return to the Swedish lakeside cottage where, more than two decades before, an unspeakable accident forever altered their family and changed the course of their lives.

"Takes you deep into an emotional labyrinth [where] you'll cry for these brothers. For the men they became, for the boys they were, for the innocence they lost. Brilliant, haunting and unforgettable." —Fredrik Backman, author of A Man Called Ove
There is Nils, the oldest, who couldn't escape his suffocating home soon enough, and Pierre, the youngest, easily bullied and quick to lash out. And then there is Benjamin, always the family's nerve center, perpetually on the lookout for triggers and trap doors in a volatile home where the children were left to fend for themselves, competing for their father's favor and their mother's elusive love.
But as the years have unfolded, Benjamin has grown increasingly untethered from reality, frozen in place while life carries on around him. And among the brothers a dangerous current now vibrates. What really happened that summer day when everything was blown to pieces?
In a thrillingly fast-paced narrative, The Survivors mixes the emotional acuity of Edward St. Aubyn, the literary verve of Ian McEwan, and the heart of Shuggie Bain. By brilliantly dissecting a mind unravelling in the wake of tragedy, Alex Schulman reveals the ways in which our deepest loyalties leave us open to the greatest betrayal.
---
ALEX SCHULMAN is a bestselling author and journalist and the co-host of Sweden's most popular podcast. The Survivors, which has sold in over 30 countries, is his fifth novel and marks his international debut. He lives in Sweden with his wife and their three children.
 
RACHEL WILLSON-BROYLES majored in Scandinavian Studies at Gustavus Adolphus College in St. Peter, Minnesota, and received her BA there in 2002. She started translating while a graduate student at the University of Wisconsin-Madison, where she received a Ph.D. in Scandinavian Studies in 2013. She has translated books such as Helios Disaster by Lina Boström KnausgÃ¥rd, which was a finalist for the National Book Award; Quicksand by Malin Persson Giolito; A Nearly Normal Family by Mattias Edvardsson; and Montecore and Everything I Don't Remember by Jonas Hassen Khemiri. Rachel lives in Saint Paul, Minnesota.
---
This virtual event was not live on Facebook yesterday because Facebook was down. You can still enjoy the event with Alex Schulman here.