The Los Angeles Times calls Tori Eldridge's The Ninja Betrayed, one of "Five Fall Mysteries You Shouldn't Miss". The Poisoned Pen didn't want you to miss it either. J.T. Ellison hosted Eldridge for a recent virtual event. You can find signed copies of The Ninja Betrayed in the Web Store. https://bit.ly/32Yl2Wn
Here's the summary of The Ninja Betrayed.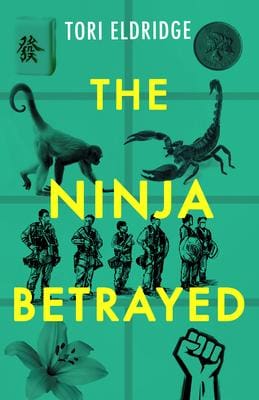 One of The Los Angeles Times' "Five Fall Mysteries You Shouldn't Miss"
Things get personal for Chinese-Norwegian modern-day ninja Lily Wong in Hong Kong when she dives into the dangerous world of triads, romance, and corporate disaster during the height of the pro-democracy protests.
Lily's mother has been summoned by her grandfather, Gung-Gung to attend an emergency board meeting. Lily is happy to take her father's place for exotic travel, family reunions, and romantic dates with her new boyfriend, Daniel Kwok, who's there for business. Lily and her mother stay at her grandparents' hillside home on Hong Kong Island, but tension between Gung-Gung and Ma makes it hard to enjoy the beautiful surroundings, especially with the city in turmoil. Gung-Gung won't say anything about the meeting and Ma is worried that her career is in jeopardy. Meanwhile, the teenage daughter of Gung-Gung's driver is pulled into the dangerous riots.
As Lily and Ma discover shaky finances, questionable loans, and plans for the future involving them both, Lily's escalating romance with Daniel puts her heart at risk. Will her ninja skills allow her to protect her mother, the family business, and the renegade teen while navigating love, corporate intrigue, and murderous triads?
---
Tori Eldridge is the Anthony, Lefty, and Macavity Award-nominated author of the acclaimed Lily Wong series: The Ninja Daughter, The Ninja's Blade, and The Ninja Betrayed (out 9/14/21). Her short stories have been published in horror, dystopian, and other literary anthologies, and her narrative poem appears in the inaugural reboot of Weird Tales magazine. Tori's screenplay The Gift earned a semi-finalist spot for the Academy Nicholl Fellowship. Before writing, she performed as an actress, singer, dancer on Broadway, television, and film. Tori holds a fifth-degree black belt in To-Shin Do ninjutsu and has traveled the U.S. teaching ninja martial arts and women's empowerment. Visit her website at https://torieldridge.com.
---
Enjoy the conversation with Tori Eldridge and J.T. Ellison.