Today, Scott Graham, author of the National Park Mystery series, is guest author. Graham's latest book, Canyonlands Carnage, was just released, and is available through the Web Store now. https://bit.ly/3keEuIa
Before I turn the blog over to Scott, let me introduce him, and Canyonlands Carnage.
SCOTT GRAHAM is the author of the acclaimed National Park Mystery series, featuring archaeologist Chuck Bender and Chuck's spouse Janelle Ortega. In addition to the National Park Mystery series, Scott is the author of five nonfiction books, including Extreme Kids, winner of the National Outdoor Book Award. Scott is an avid outdoorsman who enjoys backpacking, river rafting, skiing, and mountaineering. He has made a living as a newspaper reporter, magazine editor, radio disk jockey, and coal""shoveling fireman on the steam""powered Durango""Silverton Narrow Gauge Railroad. He lives with his spouse, who is an emergency physician, in Durango, Colorado.
---
Here's the summary of Canyonlands Carnage.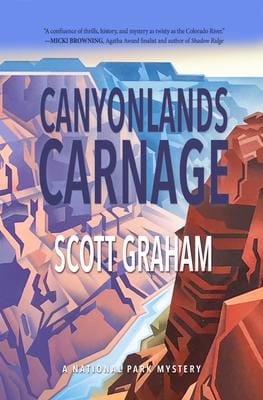 "A confluence of thrills, history, and mystery as twisty as the Colorado River."
—MICKI BROWNING, author ofShadow Ridge

When suspicious deaths befall a whitewater rafting expedition through Cataract Canyon in Canyonlands National Park, archaeologist Chuck Bender and his family recognize evil intent lies behind the tragedies. They must risk their lives and act before the murderer makes an already deadly journey on the Colorado River through Utah's red rock wilderness even deadlier—or turns on them instead.
---
Thank you, Scott, for taking time for this piece.
---
What I've Learned from Lori Rader-Day, Elizabeth Little, and Margaret Mizushima
I've always loved reading murder mysteries. Now that I'm writing a mystery series myself, I love reading mysteries all the more—not only for the enjoyment they provide me, but for all I learn from them as well.
As I pore through mysteries these days, I find the one ingredient that continues to hook me into a mystery more than any other after all these years is the author's personal passion for their subject. No matter what subject a mystery might involve—scuba diving, art heists, ballroom dancing, Scrabble, you name it—the fact that the author cares deeply about their topic invariably draws me into their story.
In last year's The Lucky One (William Morrow), for example, Lori Rader-Day drew me into the murky world of unidentified Jane Does, introducing me to a fascinating slice of America I barely knew existed. While Rader-Day's mystery is a terrific read that is fully deserving of all the accolades and award nominations it has received, the many details I learned about the work of citizen sleuths to identify unknown dead bodies made reading it all the richer for me.
Likewise, Elizabeth Little's 2020 comic mystery Pretty as a Picture (Penguin) took me deep inside the twisted world of modern filmmaking. I laughed out loud at the travails of Little's troubled film-editor protagonist while vicariously experiencing—and thereby learning lots about—a world far removed from my own.
            My friend and fellow writer-in-crime Margaret Mizushima lets her passion for animals shine through in her Timber Creek K-9 series (Crooked Lane Books) featuring sheriff's deputy Mattie Cobb and Mattie's K-9 partner Robo. Margaret is married to a veterinarian and helps run his practice in Colorado. The true-life animal stories she shares in each of her mysteries, drawn directly from her veterinary world, are as absorbing to me as the murderously fine mysteries she tells.
I've embraced the idea of sharing that which I'm passionate about in my own National Park Mysteries (Torrey House Press), and I believe that has led to the steadily increasing success of each new release in the series.
            The central mystery of last year's Mesa Verde Victim, No. 6 in the series, involves the repatriation of skeletal human remains dug up from ancient Indigenous graves across the West and held by museums around the world for more than a century, while the subject of the seventh installment in my series, Canyonlands Carnage, released Sept. 14, is the vexing issue of water scarcity in the increasingly arid Southwest. Both subjects have long intrigued me, and I have studied them with passionate intensity over many years. I hope sharing my passion for those subjects with my readers enhances their reading experience, just as Lori Rader-Day, Elizabeth Little, and Margaret Mizushima have enhanced mine.
---
Scott Graham is the National Outdoor Book Award-winning author of the National Park Mystery Series for Torrey House Press. The seventh book in the series, Canyonlands Carnage, was released Sept. 14. More information at scottfranklingraham.com. Here's the link to his Facebook Live interview on Sept. 4 with Barbara Peters at Poisoned Pen with Margaret Mizushima: https://www.facebook.com/watch/live/?v=146531517646775&ref=watch_permalink.
Or, if you would prefer to go directly to the YouTube link to the event with Margaret Mizushima, here it is.
---