Kyle Mills' virtual event at The Poisoned Pen for Enemy at the Gates, the twentieth Mitch Rapp novel, features not only the discussion of the book, but also the history of the series, and even a little history of Thrillerfest. And, if you buy a copy of Enemy at the Gates through the Web Store, you'll get a signed book plate, and a signed outline page from the book. https://bit.ly/2DvX1MD
Here's the description of Enemy at the Gates.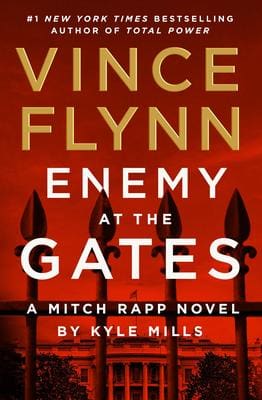 Picking up where the "tour de force" (The Providence Journal) Total Power left off, the next thriller in the #1 New York Times bestselling Mitch Rapp series follows the CIA's top operative as he searches for a high-level mole with the power to rewrite the world order.
Mitch Rapp has worked for a number of presidents over his career, but Anthony Cook is unlike any he's encountered before. Cunning and autocratic, he feels no loyalty to America's institutions and is distrustful of the influence Rapp and CIA director Irene Kennedy have in Washington.
Meanwhile, when Kennedy discovers evidence of a mole scouring the Agency's database for sensitive information on Nicholas Ward, the world's first trillionaire, she convinces Rapp to take a job protecting him. In doing so, he finds himself walking an impossible tightrope: Keep the man alive, but also use him as bait to uncover a traitor who has seemingly unlimited access to government secrets.
As the attacks on Ward become increasingly dire, Rapp and Kennedy are dragged into a world where the lines between governments, multinational corporations, and the hyper-wealthy fade. An environment in which liberty, nationality, and loyalty are meaningless. Only the pursuit of power remains.
As "one of the best thriller writers on the planet" (The Real Book Spy), Kyle Mills has created another nail-biter that not only echoes the America of today, but also offers a glimpse into its possible future.
---
#1 New York Times bestselling author Vince Flynn (1966″"2013) created one of contemporary fiction's most popular heroes: CIA counterterrorist agent Mitch Rapp, featured in thirteen of Flynn's acclaimed political thrillers. All of his novels are New York Times bestsellers, including his stand-alone debut novel, Term Limits.
Kyle Mills is the #1 New York Times bestselling author of nineteen political thrillers, including Total Power, Lethal Agent, and Red War for Vince Flynn and The Patriot Attack for Robert Ludlum. He initially found inspiration from his father, the former director of Interpol, and still draws on his contacts in the intelligence community to give his books such realism. Avid outdoor athletes, he and his wife have lived in Jackson Hole, Wyoming, for over twenty years. Visit his website at KyleMills.com.
---
Fans will enjoy the discussion with Kyle Mills.