Matthew Hart's Hot Book of the Week at The Poisoned Pen is Ice Angel. The author of this Alex Turner thriller will be appearing virtually for the bookstore tonight, Thursday, Sept. 9 at 5 PM PDT, 8 PM EDT. Signed copies of the book are available in the Web Store now. https://bit.ly/2WYoz8h
Do you want some of the background of the book before the event? Check out Hart's article, "Matthew Hart recounts the diamond-studded story that inspired his thriller, "Ice Angels" at The Zoomer Book Club, https://bit.ly/3BYvcWZ.
Here's the summary of the book.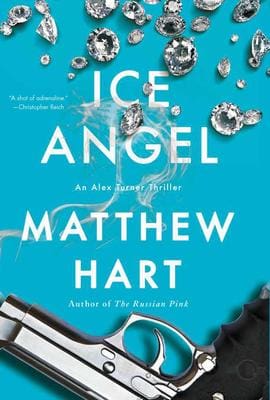 In this explosive sequel to The Russian Pink, Alex and Lily are thrust into a murderous cat-and-mouse across the Arctic diamond fields, dodging Chinese assassins while at the same time struggling with the personal betrayals that torment their passionate affair.
Alex Turner and his treacherous lover, the Russian diamond thief Slav Lily, are back on the hunt. An American prospector is murdered in the great diamond field of northern Canada—a magical landscape of pristine lakes and granite ridges and scarlet vegetation.
The U.S. government fears that the Chinese billionaire twins who suddenly control the dead prospector's company are seeking a toehold for their government in this vital northern region.
As we race across the globe with Alex and Lily, Hart keeps a heart-bounding pace with lethal plane chases across the diamond-rich Barrens and a battle between the scheming twins and Mitzi Angel, the murdered prospector's daughter. All the while, The Ice Angel delves into the dark realpolitik of America's strategy while untangling the Byzantine motives that drive the diamond trade.
In this explosive sequel to the breakout The Russian Pink, Alex and Lily must struggle with the rivalry, and sometimes the deceit, that wraps their love in its coils.  
---
Matthew Hart is the award-winning author of the book Diamond: The History of a Cold-Blooded Love Affair, was translated into six languages and made into a four-hour dramatic miniseries starring Sir Derek Jacobi and Judy Davis and the book Gold: The Race for the World's Most Seductive Metal, which was adapted into a National Geographic TV special. He has travelled from the Arctic to Angola in pursuit of diamond stories, which inspired his first thriller, The Russian Pink, also available from Pegasus Books. He lives in New York City.