While Patrick Millikin was still at The Poisoned Pen in Arizona, he took viewers to Oxford, Mississippi to visit with authors Ace Atkins and Chris Offutt.They spent time talking about the town and other resident authors, so it seemed appropriate to talk about the location. Atkins' latest book, The Heathens, is available through the Web Store, along with signed copies of Offutt's The Killing Hills. https://store.poisonedpen.com/
Here's the description of The Heathens.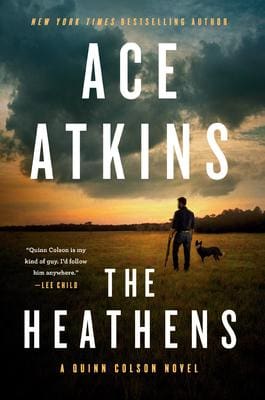 Sheriff Quinn Colson and his former deputy Lillie Virgil find themselves on opposite sides of a case for the first time after a woman is found dead and three delinquent teens go on the run.
Before he was an Army Ranger who came home to become Tibbehah County Sheriff and take down a corrupt system, Quinn Colson was a kid who got into trouble–a lot of it. So when juvenile delinquent TJ Byrd insists that she doesn't know who killed her mother—an unreliable addict who has disappeared—Quinn's inclined to believe her. But no one else does–not the town, not the sheriff in a neighboring county, not her mother's older boyfriend, and certainly not Quinn's friend and former deputy, U.S. Marshal Lillie Virgil.

The Byrd family has always been trouble, and sixteen-year-old TJ is known for petty theft, fighting, and general hellraising. She's also no fool, and when she senses she's about to take the fall for her mother's murder, TJ, her boyfriend, her best friend, and her nine-year-old brother go on the run. As Lillie Virgil tracks the kids across a trail of burglaries, stolen cars and even a kidnapping, intent on bringing TJ to justice, Quinn sets out to find the truth back in Tibbehah. Someone has gone to a lot of violent trouble to make TJ and her friends the logical target of the investigation. It's easy, and who cares about a bunch of lawless kids?

As the bloody evidence against TJ piles up, Quinn knows someone truly evil is at work here–and that puts TJ and her friends in more danger than they can imagine.
---
Ace Atkins is the author of twenty-eight books, including eleven Quinn Colson novels, the first two of which, The Ranger and The Lost Ones, were nominated for the Edgar Award for Best Novel (he has a third Edgar nomination for his short story "Last Fair Deal Gone Down"). He is the author of nine New York Times-bestselling novels in the continuation of Robert B. Parker's Spenser series. Before turning to fiction, he was a correspondent for the St. Petersburg Times and a crime reporter for the Tampa Tribune, and he played defensive end for Auburn University football.
---
The Killing Hills is summarized here.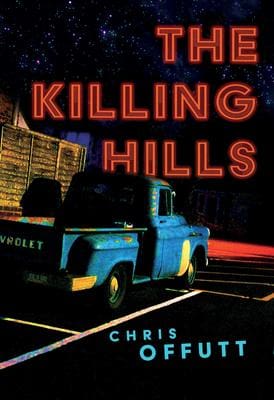 A literary master across genres, award-winning author Chris Offutt's latest novel,The Killing Hills, is a compelling, propulsive thriller in which a suspicious death exposes the loyalties and rivalries of a deep-rooted and fiercely private community in the Kentucky backwoods.
Mick Hardin, a combat veteran now working as an Army CID agent, is home on a leave that is almost done. His wife is about to give birth, but they aren't getting along. His sister, newly risen to sheriff, has just landed her first murder case, and local politicians are pushing for city police or the FBI to take the case. Are they convinced she can't handle it, or is there something else at work? She calls on Mick who, with his homicide investigation experience and familiarity with the terrain, is well-suited to staying under the radar. As he delves into the investigation, he dodges his commanding officer's increasingly urgent calls while attempting to head off further murders. And he needs to talk to his wife.
The Killing Hills is a novel of betrayal—sexual, personal, within and between the clans that populate the hollers—and the way it so often shades into violence. Chris Offutt has delivered a dark, witty, and absolutely compelling novel of murder and honor, with an investigator-hero unlike any in fiction.
---
CHRIS OFFUTT is also the author of novelsCountry Dark andThe Good Brother, the short-story collectionsKentucky Straight andOut of the Woods, and three memoirs:The Same River Twice,No Heroes, andMy Father, the Pornographer. His work has appeared inBest American Short Stories andBest American Essays, among many other places. He has written screenplays forWeeds,True Blood, andTreme, and has received fellowships from the Lannan and Guggenheim foundations. He lives in rural Lafayette County near Oxford, Mississippi.
---
Enjoy this front porch conversation.