Let's talk about Christopher Fowler's Bryant and May books since the author is ending the series with London Bridge is Falling Down. Suzi Feay recently interviewed Fowler for The Guardian, talking about his books, his characters, and the series. You can find that interview here. https://bit.ly/3epsT5V While the book won't be published in the United States until December, it's a July release in the U.K. Even with that publication date, you can pre-order that book, or order other books in the series through the Web Store. https://bit.ly/2UU3mdV
Here's the summary of London Bridge is Falling Down.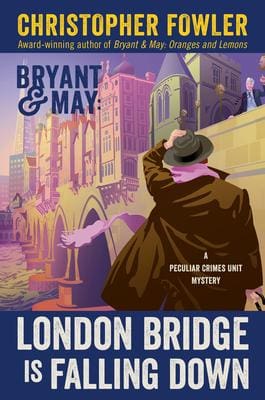 "[Fowler] takes delight in stuffing his books with esoteric facts. . . .They make forunbeatable fun."—The Guardian

The brilliant duo of Arthur Bryant and John May uncovers a nefarious plot behind the seemingly innocuous death of an old lady—and when the case leads them to London Bridge, it all comes down on the Peculiar Crimes Unit.
When ninety-one-year-old Amelia Hoffman dies in her top-floor flat on a busy London road, it's considered an example of what has gone wrong with modern society: she slipped through the cracks in a failing system.
But detectives Arthur Bryant and John May of the Peculiar Crimes Unit have their doubts. Mrs. Hoffman was once a government security expert, though no one can quite remember her. When a link emerges between the old lady and a diplomat trying to flee the country, it seems that an impossible murder has been committed.

Mrs. Hoffman wasn't the only one at risk. Bryant is convinced that other forgotten women with hidden talents are also in danger. And, curiously, they all own models of London Bridge.

With the help of some of their more certifiable informants, the detectives follow the strangest of clues in an investigation that will lead them through forgotten alleyways to the city's oldest bridge in search of a desperate killer.
  But just when the case appears to be solved, they discover that Mrs. Hoffman was smarter than anyone imagined. There's a bigger game afoot that could have terrible consequences.
---
Christopher Fowler is the acclaimed author of the award-winning Full Dark House and sixteen other Peculiar Crimes Unit mysteries, as well as the PCU story collections London's Glory and England's Finest. In 2015, Fowler won the coveted Crime Writers' Association Dagger in the Library Award in recognition for his body of work. He lives in London.