In her virtual event book release for Her Last Breath, Hilary Davidson told Patrick Millikin from The Poisoned Pen that she's appeared at The Poisoned Pen for all seven of her books. Her Last Breath has been released in both hardcover and paperback, and Davidson signed copies of both. You can find them in the Web Store. https://bit.ly/3eir2Qf
Here's Her Last Breath.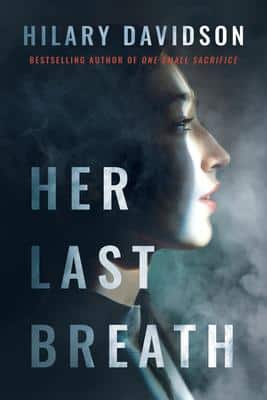 From the bestselling author of One Small Sacrifice comes a suspenseful thriller about a dead woman who predicted her own murder—and the sister who won't let the truth be buried.
When her beloved sister Caroline dies suddenly, Deirdre is heartbroken. However, her sorrow turns to bone-chilling confusion when she receives a message Caroline sent days earlier warning that her death would be no accident. Long used to being a pariah to her family, Deirdre covers her tattoos and heads to Manhattan for her sister's funeral.
The message claimed Caroline's husband, Theo, killed his first wife and got away with it. Reeling from the news, Deirdre confronts Theo on the way to the cemetery, and he reveals both his temper and his suspicion that Deirdre's "perfect" sister was having an affair.
Paranoid and armed with just enough information to make her dangerous, Deirdre digs into the disturbing secrets buried with Caroline. But as she gets closer to the truth, she realizes that her own life may be at risk…and that there may be more than one killer in the family.
---
Hilary Davidson is the bestselling author of One Small Sacrifice and the winner of two Anthony Awards. Her novels include the Lily Moore series—The Damage Done, The Next One to Fall, and Evil in All Its Disguises—and the standalone thriller Blood Always Tells. Her widely acclaimed short stories have won numerous awards and have been featured everywhere from Ellery Queen to Thuglit, as well as in her collection The Black Widow Club. A Toronto-born travel journalist who's lived in New York City since October 2001, Davidson is also the author of eighteen nonfiction books. Visit her online at www.hilarydavidson.com.
---
Enjoy the conversation between Hilary Davidson and Patrick Millikin.