Kate Carlisle recently appeared virtually for The Poisoned. She and Barbara Peters, the owner of The Poisoned Pen, discussed Rebecca and other gothic novels as they talked about Carlisle's latest Bibliophile mystery, Little Black Book. Unfortunately, all signed copies of the book are sold, but you can still order a copy through the Web Store. https://bit.ly/3AFs3LR
Here's the summary of Little Black Book.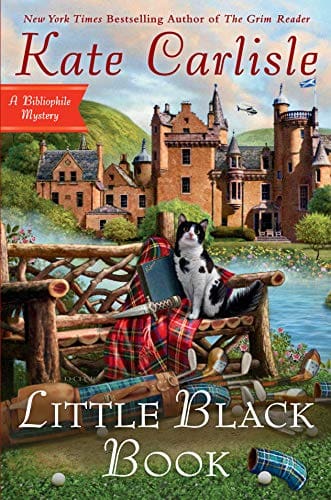 San Francisco book-restoration expert Brooklyn Wainwright is on the case when a rare edition of Rebecca leads to murder in this latest installment of the New York Times bestselling Bibliophile Mystery series.
Brooklyn and her hunky husband, security expert Derek Stone, have just returned from a delightful trip to Dharma, where the construction of their new home away from home is well underway, when a little black book arrives in the mail from Scotland. The book is a rare British first edition of Rebecca, and there's no return address on the package. The day after the book arrives, Claire Quinn shows up at Brooklyn and Derek's home. Brooklyn met Claire when the two women worked as expert appraisers on the television show This Old Attic. Brooklyn appraised books on the show and Claire's expertise was in antique British weaponry, but they bonded over their shared love of gothic novels.

Claire reveals that during a recent trip to Scotland she discovered her beloved aunt was missing and her home had been ransacked. Among her aunt's belongings, Claire found the receipt for the package that wound up with Brooklyn and Derek. Claire believes both her own life and her aunt's are in danger and worries that her past may be coming back to haunt her.

But just as Brooklyn and Derek begin to investigate, a man who Claire thinks was following her is found murdered, stabbed with a priceless jeweled dagger. With a death on their doorstep, Brooklyn and Derek page through the little black book, where they discover clues that will take them to the shadows of a medieval Scottish castle on the shores of Loch Ness. Under the watchful gaze of a mysterious laird and the irascible villagers who are suspicious of the strangers in their midst, Brooklyn and Derek must decode the secrets in Rebecca to keep their friend's past from destroying their future….
---
A native Californian, New York Times bestselling author Kate Carlisle worked in television for many years before turning to writing. A lifelong fascination with the art and craft of bookbinding led her to write the Bibliophile Mysteries featuring Brooklyn Wainwright, whose bookbinding and restoration skills invariably uncover old secrets, treachery, and murder. She is also the author of the Fixer-Upper Mysteries featuring small-town girl Shannon Hammer, a building contractor specializing in home restoration.
---
If you want an interesting conversation about gothic novels, check out this virtual event with Kate Carlisle and Barbara Peters.