The Night Hawks is the thirteenth Ruth Galloway mystery by Elly Griffiths. Griffiths recently appeared for The Poisoned Pen for a virtual event. That's one advantage of Zoom, that the British authors can appear for the bookstore. Griffiths' books are available through the Web Store. https://bit.ly/3kE3cR1
Here is the summary of The Night Hawks.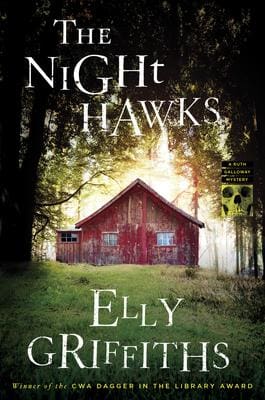 There's nothing Ruth Galloway hates more than amateur archaeologists, but when a group of them stumble upon Bronze Age artifacts alongside a dead body, she finds herself thrust into their midst—and into the crosshairs of a string of murders circling ever closer.
Ruth is back as head of archaeology at the University of North Norfolk when a group of local metal detectorists—the so-called Night Hawks—uncovers Bronze Age artifacts on the beach, alongside a recently deceased body, just washed ashore. Not long after, the same detectorists uncover a murder-suicide—a scientist and his wife found at their farmhouse, long thought to be haunted by the Black Shuck, a humongous black dog, a harbinger of death. The further DCI Nelson probes into both cases, the more intertwined they become, and the closer they circle to David Brown, the new lecturer Ruth has recently hired, who seems always to turn up wherever Ruth goes.
---
ELLY GRIFFITHS is the author of the Ruth Galloway and Magic Men mystery series, as well as the standalone novels The Stranger Diaries, winner of the Edgar Award for Best Novel, and The Postscript Murders. She is the recipient of the CWA Dagger in the Library Award and the Mary Higgins Clark Award. She lives in Brighton, England.
---
Enjoy the conversation about Elly Griffiths' The Night Hawks and her other books.