Barbara Peters, owner of The Poisoned Pen, introduced author Allison Montclair as actually Alan Gordon. As Montclair, he's written the three post-World War II novels featuring Sparks and Bainbridge. He talks about the changeover after the war, and said few people write about the women in England after the war. The two women start a marriage bureau to help rebuild British society as they rebuild their own lives. You can find all three books, including the latest, A Rogue's Company, in the Web Store. https://bit.ly/35Q1HZp
Here's the summary of A Rogue's Company.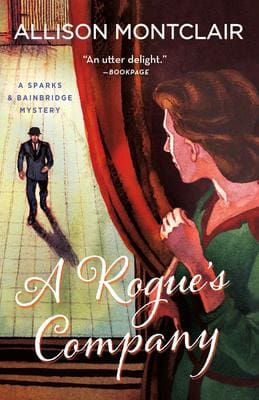 *A PW Pick of the Week!*

In Allison Monclair's A Rogue's Company, business becomes personal for the Right Sort Marriage Bureau when a new client, a brutal murder, two kidnappings, and the recently returned from Africa Lord Bainbridge threatens everything that one of the principals holds dear.
In London, 1946, the Right Sort Marriage Bureau is getting on its feet and expanding. Miss Iris Sparks and Mrs. Gwendolyn Bainbridge are making a go of it. That is until Lord Bainbridge—the widowed Gwen's father-in-law and legal guardian—returns from a business trip to Africa and threatens to undo everything important to her, even sending her six-year-old son away to a boarding school.
But there's more going on than that. A new client shows up at the agency, one whom Sparks and Bainbridge begin to suspect really has a secret agenda, somehow involving the Bainbridge family. A murder and a subsequent kidnapping sends Sparks to seek help from a dangerous quarter—and now their very survival is at stake.
---

ALLISON MONTCLAIR grew up devouring hand-me-down Agatha Christie paperbacks and James Bond movies. As a result of this deplorable upbringing, Montclair became addicted to tales of crime, intrigue, and espionage. She now spends her spare time poking through the corners, nooks, and crannies of history, searching for the odd mysterious bits and transforming them into novels of her own. She is the author of the Sparks & Bainbridge historical mystery series, which begins with The Right Sort of Man.
---
If you enjoy writing, mysteries, and history, I think you'll enjoy this conversation.