Clare Mackintosh's book release event for Hostage was held virtually at The Poisoned Pen. You can order a copy of this thriller through the Web Store. https://bit.ly/3zYk4cr Clare Mackintosh brings her twelve years on the police force to her writing.
Here's Hostage.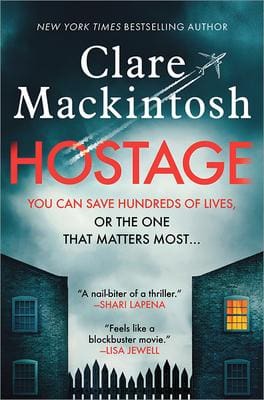 "Feels like a blockbuster movie."—Lisa Jewell, #1 New York Times bestselling author of Then She Was Gone
You can save hundreds of lives. Or the one that matters most…
From New York Times bestselling author Clare Mackintosh comes a claustrophobic thriller set over 20 hours on-board the inaugural nonstop flight from London to Sydney.
Mina is trying to focus on her job as a flight attendant, not the problems with her five-year-old daughter back home, or the fissures in her marriage. But the plane has barely taken off when Mina receives a chilling note from an anonymous passenger, someone intent on ensuring the plane never reaches its destination: "The following instructions will save your daughter's life…"
Someone needs Mina's assistance and knows exactly how to make her comply.
When one passenger is killed and then another, Mina knows she must act. But which lives does she save: Her passengers…or her own daughter and husband who are in grave distress back at home?
It's twenty hours to landing. A lot can happen in twenty hours.
For fans of the locked-room mystery of One By One and the heart-stopping tension The Last Flight, Hostage is an explosively addictive thriller about one flight attendant and the agonizing decision that will change her life—and the lives of everyone on-board—forever.
Praise for Hostage:
"Surprising twists propel the story to an unexpected finale. Mackintosh has raised her game with this one."
—Publishers Weekly, STARRED review
"Hypnotically good. Should be a hit, could be a classic…"
—Lee Child, #1 New York Times bestselling author of the Jack Reacher series
"Fiendishly clever."
—Lisa Gardner, #1 New York Times bestselling author of Before She Disappeared
"A propulsive read."
—Karin Slaughter, New York Times bestselling author of The Silent Wife
"A nail-biter of a thriller."
—Shari Lapena, New York Times bestselling author of The Couple Next Door
"A true page-turner that will have producers lining up with movie offers."
---
CLARE MACKINTOSH is an award-winning New York Times and international bestselling author. She spent twelve years on the police force in England and has written for the Guardian, Good Housekeeping, and other publications. Translated into forty languages, her books have sold more than two million copies worldwide. Clare lives in North Wales with her husband and their three children. She can be found at claremackintosh.com, www.facebook.com/ClareMackWrites or on Twitter at ClareMackint0sh.
---
Enjoy Barbara Peters' conversation with Clare Mackintosh, and a visit from surprise guest, Lee Child.