Jon Talton may have moved to Seattle, but it's obvious in his book, City of Dark Corners, and in his conversation that he still loves the history of Phoenix. He takes readers back to Phoenix and 1933 in his recent crime novel. You can order a copy through the Web Store. https://bit.ly/2vFQj31
Here's City of Dark Corners.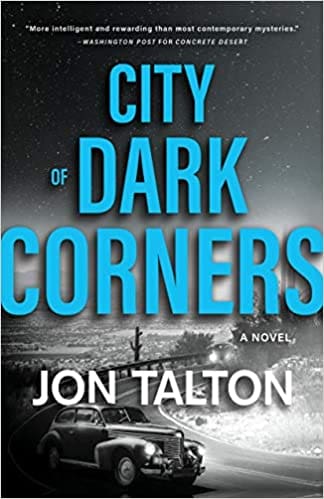 "Talton shines in weaving together the mystery elements of the plots with historical events from the Prohibition period. Fast-paced, gritty, and exciting, this one will have fans of both Depression-era and southwestern-set crime fiction begging for more!"
—Booklist, Starred Review
A fresh take on classic noir, City of Dark Corners reveals the seedy underbelly of the budding city of Phoenix in the 1930s and the lengths one man will go to uphold justice no matter the cost.
Phoenix, 1933: A young city with big dreams and dark corners
Great War veteran and rising star Gene Hammons lost his job as a homicide detective when he tried to prove that a woman was wrongly convicted of murder to protect a well-connected man. Now a private investigator, Hammons makes his living looking for missing persons—a plentiful caseload during the Great Depression, when people seem to disappear all the time.
But his routine is disrupted when his brother—another homicide detective, still on the force—enlists his help looking into the death of a young woman whose dismembered body is found beside the railroad tracks. The sheriff rules it an accident, but the carnage is too neat, and the staging of the body parts too ritual. Hammons suspects it's the work of a "lust murderer"—similar to the serial strangler whose killing spree he had ended a few years earlier. But who was the poor girl, dressed demurely in pink? And why was his business card tucked into her small purse? As Hammons searches for the victim's identity, he discovers that the dead girl had some secrets of her own, and that the case is connected to some of Phoenix's most powerful citizens—on both sides of the law.
Perfect for fans of David Baldacci and historical mysteries, City of Dark Corners puts readers at the heart of the fear and uncertainty of the Great Depression and the lawlessness of America during prohibition.
Additional praise for City of Dark Corners:
"This gritty stand-alone deals with Phoenix's rough-and-tumble past and its questionable police force in the 1930s. Talton excels at creating the ambiance of historic Phoenix. [Suggested] for fans of realistic historical mysteries or Phoenix Noir."
—Library Journal, Starred Review
"References to movie actors and other celebrities of the day, as well as speakeasies and bootleggers, lend atmosphere to this well-crafted tale involving desperate people who could easily disappear."
—Publishers Weekly
---
Jon Talton is a fourth-generation Arizonan, the author of 12 novels, and a former columnist for the Arizona Republic. Talton now lives in Seattle, where he is the economics columnist for the Seattle Times and writes the blog Rogue Columnist.
---
Enjoy the recent conversation with Jon Talton.