Barbara Peters, owner of The Poisoned Pen, recently hosted authors who set their books in Europe. Jeffrey Siger's series featuring Chief Inspector Andreas Kaldis is set in Greece. A Deadly Twist is the latest one. David Wagner takes readers to Italy for murder and food in To Die in Tuscany, the latest Rick Montoya mystery. You can find their books in the Web Store, although you'll have to pre-order a hardcover of Siger's A Deadly Twist if you want a signed copy. https://store.poisonedpen.com/
Here's A Deadly Twist.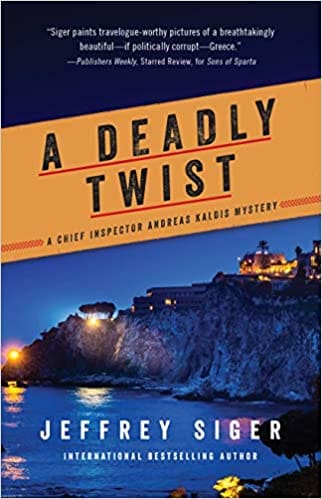 Some crimes can never be forgiven—or atoned for
When Athens journalist Nikoletta Elia disappears while on assignment on the island of Naxos, her editor calls on Chief Inspector Andreas Kaldis to investigate. Sent to report on the conflict between preservationists and advocates for expanded tourism, Nikoletta is approached by a fan who takes credit for several suspicious deaths she'd reported on in the past. The assassin claims to have abandoned that life, and convinces the reporter to write about him and his murderous exploits for hire.
Kaldis sends his deputy, Yianni, to look into her disappearance when an unidentified body is found at the base of a cliff. Who is the mysterious corpse, and where is Nikoletta? Leads turn into more dead bodies in this twisting tale of greed, corruption, and murder that puts Kaldis, his family, and members of his team in the path of a ruthless killer who will stop at nothing to keep dark secrets buried—forever.
---
Jeffrey Siger was born and raised in Pittsburgh, Pennsylvania, practiced law at a major Wall Street law firm, and later established his own New York City law firm where he continued as one of its name partners until giving it all up to write full-time among the people, life, and politics of his beloved Mykonos. The Mykonos Mob is the tenth novel in his internationally best-selling and award nominated Chief Inspector Andreas Kaldis series, following up on An Aegean April, Santorini Caesars, Devil in Delphi, Sons of Sparta, Mykonos After Midnight, Target: Tinos, Prey on Patmos, Assassins of Athens, and Murder in Mykonos.
The New York Times described Jeffrey Siger's novels as "thoughtful police procedurals set in picturesque but not untroubled Greek locales," and named him as Greece's thriller writer of record. The Greek Press called his work "prophetic," Eurocrime described him as a "very gifted American author…on a par with other American authors such as Joseph Wambaugh or Ed McBain," and the City of San Francisco awarded him its Certificate of Honor citing that his "acclaimed books have not only explored modern Greek society and its ancient roots but have inspired political change in Greece." He now lives in Greece.
---
Check out To Die in Tuscany.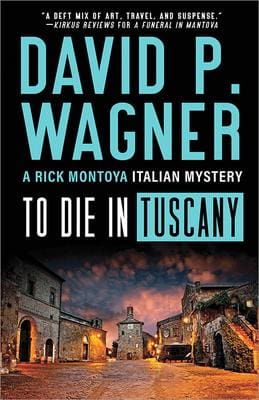 One dead art collector and a gallery of suspects…
Translator Rick Montoya is looking forward to a quiet weekend away with his girlfriend, Betta, an art fraud investigator for the Italian Culture Ministry. Their destination: the beautiful village of Urbino, home to Renaissance masters Rafael and the lesser-known Piero della Francesca. While Betta does have official business to attend to—namely, collecting a priceless Piero drawing from a wealthy Spanish collector on the ministry's behalf—she asks Rick to join her "in case she needs an interpreter," but with other, less-official intentions in mind.
When the Spaniard is found murdered and the drawing stolen, Betta must shift back into art cop mode, and Rick's official services are required after all. As they set out to discover the identity of the killer and the whereabouts of the stolen sketch, they are drawn from Urbino's cobbled streets to eastern Tuscany and back as the list of suspects grows longer—and more dangerous. Will this lovers' getaway literally be to die for?
---
David P. Wagner is a retired foreign service officer who spent nine years in Italy, learning to love things Italian. Other diplomatic assignments included Brazil, Ecuador, and Uruguay, as well as two hardship postings to Washington, D.C. He and his wife, Mary, live in Pueblo, Colorado.
---
Enjoy the conversation!