Mirrorland is Scottish author Carole Johnstone's debut novel, and it's doing very well. The Poisoned Pen was fortunate to have bestselling author Jayne Ann Krentz as guest host for the virtual event to introduce Johnstone. You can find copies of books by both authors in the Web Store. https://store.poisonedpen.com/
Here is the introduction to Mirrorland.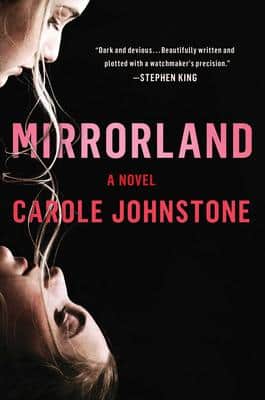 "Dark and devious… Beautifully written and plotted with a watchmaker's precision." — Stephen King
"A dark, twisty, and richly atmospheric exploration of the power of imagination" —Ruth Ware, author of One by One and The Woman in Cabin 10
With the startling twists of Gone Girl and the haunting emotional power of Room, Mirrorland is a thrilling work of psychological suspense about twin sisters, the man they both love, and the dark childhood they can't leave behind.
Cat lives in Los Angeles, far away from 36 Westeryk Road, the imposing gothic house in Edinburgh where she and her estranged twin sister, El, grew up. As girls, they invented Mirrorland, a dark, imaginary place under the pantry stairs full of pirates, witches, and clowns. These days Cat rarely thinks about their childhood home, or the fact that El now lives there with her husband Ross.
But when El mysteriously disappears after going out on her sailboat, Cat is forced to return to 36 Westeryk Road, which has scarcely changed in twenty years. The grand old house is still full of shadowy corners, and at every turn Cat finds herself stumbling on long-held secrets and terrifying ghosts from the past. Because someone—El?—has left Cat clues in almost every room: a treasure hunt that leads right back to Mirrorland, where she knows the truth lies crouched and waiting…
A twisty, dark, and brilliantly crafted thriller about love and betrayal, redemption and revenge, Mirrorland is a propulsive, page-turning debut about the power of imagination and the price of freedom.
---
Carole Johnstone's award-winning short fiction has appeared in annual "Best of" anthologies in the US and UK. She lives in Argyll & Bute, Scotland, with her husband. Mirrorland is her debut novel.
---
Here's the conversation between Carole Johnstone and Jayne Ann Krentz.