Mark de Castrique's Blackman Agency Investigations is centered on North Carolina, usually Asheville. But, it always has traces of the regional history that's important to the storyline. Barbara Peters, owner of The Poisoned Pen, recently hosted Mark de Castrique for the virtual event about his book Fatal Scores. You can order copies through the Web Store. https://bit.ly/3tRdTTz
Here's Fatal Scores.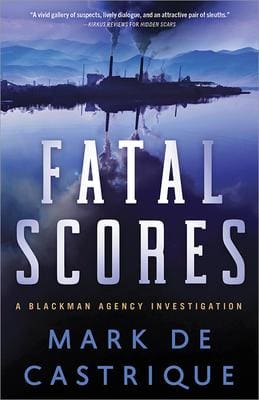 A river gives up its dead, but not its secrets…
Sam Blackman and Nakayla Robertson, private investigators in Asheville, North Carolina, are hired when a local environmentalist dies while monitoring water quality in the nearby Pigeon River. With no soil or water samples found near the body, his widow doesn't believe his death was an accident.
In fact, witnesses reported a public altercation between the environmentalist and local mill heir Luke Kirkpatrick just two days prior. Could Luke or his father, Ted, have committed murder to secure their proposed business expansion? Meanwhile, preparations for a local festival suffer violent setbacks, and the investigators worry the events are related. Can Sam and Nakayla identify the killer and serve justice before Asheville is threatened once again?
The eighth book featuring Private Investigators Blackman and Robertson, Fatal Scores, is a timely mystery perfect for fans private eyes and anyone with a taste for regional history.
Blackman Agency Investigations:
Blackman's Coffin
The Fitzgerald Ruse?
The Sandburg Connection
Murder in Passing
---
Mark de Castrique grew up in the mountains of western North Carolina where many of his novels are set. He's a veteran of the television and film production industry, has served as an adjunct professor at the University of North Carolina at Charlotte teaching The American Mystery, and he's a frequent speaker and workshop leader. He and his wife, Linda, live in Charlotte, North Carolina. www.markdecastrique.com
---
Enjoy the conversation between Mark de Castrique and Barbara Peters.