Patrick Millikin from The Poisoned Pen recently hosted three authors involved with a new book, Speculative Los Angeles. Denise Hamilton, editor of the new anthology, discusses the book with contributors Duane Swierczynski and Ben Winters. You can order a copy of the book through the Web Store. https://bit.ly/3cefD34
Here's the description of the unusual anthology.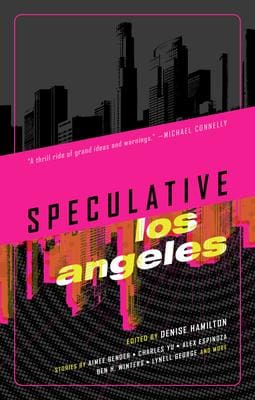 The debut title in a new city-based anthology series featuring all-new stories with speculative, sci-fi, and paranormal themes–each using distinct neighborhood settings as a launching pad.
"A stimulating anthology of 14 futuristic L.A. fables…Some of the best of these tales seem illumined by the humanistic spirit of the late Ray Bradbury, poet laureate of Southern California fantasy literature."
—Wall Street Journal
"[Speculative Los Angeles] is a swath of tales that are both wildly imaginative and emotionally grounded, speculations that not only imagine our possible futures but illuminate the collective anxieties of our unsettled and unsettling present."
—Los Angeles Times
"Speculative Los Angeles is a thrill ride of grand ideas and warnings. Take a place that already defines the future of culture, add fourteen unbound minds, and you get a collection that wows the imagination like no other."
—Michael Connelly, author of the best-selling Harry Bosch series
"The problem of buying books for others can be solved by offering the equivalent of the literary box of chocolates: the anthology…For Californians, or people who just like the West Coast, there'sSpeculative Los Angeles, edited by Denise Hamilton."
—Washington Post, recommended by Silvia Moreno-Garcia
"14 writers explore the fantastic in short stories that crisscross LA county, taking readers into alternate pasts, supernatural presents and dystopian futures…Speculative Los Angeles shows the breadth of worlds that can be created inside Los Angeles."
—Los Angeles Daily News
"14 outstanding stories of weird and uncanny happenings in the City of Angels…Each story presents a fresh take on the magic and strangeness of L.A. past, present, and future, and the characters are representative of the diverse region, caught in situations ranging from surreal to chilling. Readers should snap this up."
—Publishers Weekly, Starred review, Pick of the Week
As an incubator of the future, Los Angeles has long mesmerized writers from Aldous Huxley to Octavia E. Butler. With its natural disasters, Hollywood artifice, staggering wealth and poverty, and urban sprawl, one can argue that Los Angeles is already so weird, surreal, irrational, and mythic that any fiction emerging from this place should be considered speculative. So, bestselling author Denise Hamilton commissioned fourteen stories (including one of her own) and did exactly that. InSpeculative Los Angeles, some of the city's most prophetic and diverse voices reimagine the metropolis in very different ways.
In these pages, you'll encounter twenty-first-century changelings, dirigibles plying the suburban skies, black holes and jacaranda men lurking in deep suburbia, beachfront property in Century City, walled-off canyons and coastlines reserved for the wealthy, psychic death cults, robot nursemaids, and an alternate LA where Spanish land grants never gave way to urbanization.
As with our city-based Akashic Noir Series, each story inSpeculative Los Angeles is set in a distinct neighborhood filled with local color, landmarks, and flavor. Since the best speculative fiction provides a wormhole into other worlds while also commenting on our own, that is exactly what you'll find here.
Featuring brand-new stories by: Charles Yu, Aimee Bender, Lisa Morton, Alex Espinoza, Ben H. Winters, Denise Hamilton, Lynell George, Stephen Blackmoore, Francesca Lia Block, Duane Swierczynski, Luis J. Rodriguez, A.G. Lombardo, Kathleen Kaufman, and S. Qiouyi Lu.
---
If the topic interests you, you'll enjoy the discussion of how the book came about, and the discussion of the anthology.