The Poisoned Pen recently welcomed J.A. Jance for a virtual event to discuss her latest Joanna Brady novel Missing and Endangered. You can order signed copies of the book, and copies of Jance's other books, through the Web Store. https://bit.ly/2NIqCrG
Here's the summary of Missing and Endangered.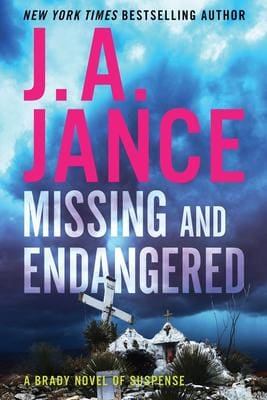 Cochise County Sheriff Joanna Brady's professional and personal lives collide when her college-age daughter is involved in a missing persons case in this evocative and atmospheric mystery in J. A. Jance's New York Times bestselling suspense series, set in the beautiful desert country of the American Southwest.
When Jennifer Brady returns to Northern Arizona University for her sophomore year, she quickly becomes a big sister to her new roommate, Beth Rankin, a brilliant yet sheltered sixteen-year-old freshman. For a homeschooled Beth, college is her first taste of both freedom and unfettered access to the internet, and Jenny is concerned that she's too naïve and rebellious for her own good.
Her worries are well-founded because one day Beth vanishes, prompting Jenny to alert campus authorities, local police, and her mom, Sheriff Joanna Brady—who calls in a favor. Beth is found, but Jenny's concern has unwittingly put her in the crosshairs of a criminal bent on revenge.
With Christmas vacation approaching, and Beth at war with her parents, Jenny invites Beth to the shelter of the Brady home. While Joanna is sympathetic, she's caught up in a sensitive case—an officer-involved shooting that has placed the lives of two young children in jeopardy—leaving her stretched thin to help a fragile young woman recently gone missing and endangered.
---
J.A. Jance is the New York Times Bestselling author of more than sixty books. Born in South Dakota and raised in Bisbee, Arizona, she and her husband live in the Seattle area with their two longhaired dachshunds, Mary and Jojo.
---
Enjoy the conversation between J.A. Jance and Barbara Peters, especially the discussion of Bisbee, Arizona.