While Kwei Quartey's latest Emma Djan Investigation, Sleep Well My Lady, is the Hot Book of the Week at The Poisoned Pen, Quartey himself is hot right now. On Monday, the first book in the series, The Missing American, was named a finalist for the 2021 Edgar Award for Best Novel. You can order signed copies of both books through the Web Store. https://bit.ly/3pfRc9H
Here's Sleep Well My Lady.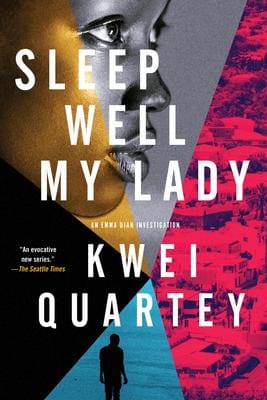 In the follow-up to the acclaimed series debut The Missing American, PI Emma Djan investigates the death of a Ghanaian fashion icon and social media celebrity, Lady Araba.
Hard-hitting talk show host Augustus Seeza has become a household name in Ghana, though notorious for his lavish overspending, alcoholism, and womanizing. He's dating the imposing, beautiful Lady Araba, who leads a selfmade fashion empire. Fearing Augustus is only after her money, Araba's religious family intervenes to break them up. A few days later, just before a major runway show, Araba is found murdered in her bed. Her driver is arrested after a hasty investigation, but Araba's favorite aunt, Dele, suspects Augustus Seeza was the real killer.
Almost a year later, Dele approaches Emma Djan, who has finally started to settle in as the only female PI at her agency. To solve Lady Araba's murder, Emma must not only go on an undercover mission that dredges up trauma from her past, but navigate a long list of suspects with strong motives. Emma quickly discovers that they are all willing to lie for each other—and that one may still be willing to kill.
---
Here's the Edgar nominee, The Missing American.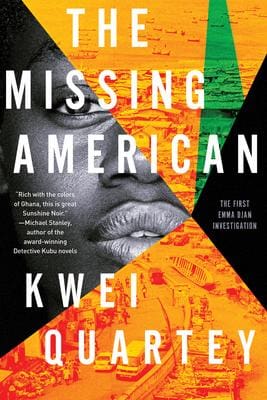 Finalist for the 2021 Edgar Award for Best Novel

Accra private investigator Emma Djan's first missing persons case will lead her to the darkest depths of the email scams and fetish priests in Ghana, the world's Internet capital.
When her dreams of rising through the Accra police ranks like her late father crash around her, 26-year-old Emma Djan is unsure what will become of her career. Through a sympathetic former colleague, Emma gets an interview with a private detective agency that takes on cases of missing persons, theft, and infidelity. It's not the future she imagined, but it's her best option.
Meanwhile, Gordon Tilson, a middle-aged widower in Washington, DC, has found solace in an online community after his wife's passing. Through the support group, he's even met a young Ghanaian widow he's come to care about. When her sister gets into a car accident, he sends her thousands of dollars to cover the hospital bill—to the horror of his only son, Derek. Then Gordon decides to surprise his new love by paying her a visit—and disappears. Fearing for his father's life, Derek follows him across the world to Ghana, Internet capital of the world, where he and Emma will find themselves deep in a world of sakawa scams, fetish priests, and those willing to kill to protect their secrets.
---
Curious about the author?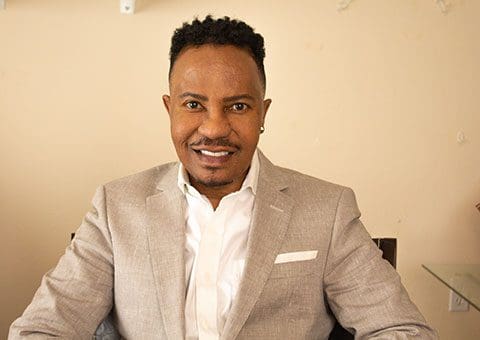 Based in Pasadena, California, Kwei Jones Quartey, M.D. is a writer of African crime fiction. He practiced medicine for more than 20 years while simultaneously working as a writer, balancing the two careers by writing early mornings before clinic. However, in 2018, he made the decision to retire from medicine to write full time.
The son of a Black American mother and Ghanaian father, Dr. Quartey is a Ghanaian-American writer who grew up in both Ghana and the United States. His passion is to promote African American writers, African literature, African bestseller fiction, and African mystery writers.
Dr. Quartey feels that African mysteries (sometimes called "Sunshine Noir") deserve a seat at the table of international thrillers and mysteries. His novels are the only contemporary West African mystery series issued by major international publishers such as Penguin-Random House and Soho Press in the United States, and Allison & Busby in the United Kingdom.