Two years ago on CrimeReads site, Keith Scribner discussed rural noir, https://bit.ly/3ofsB4j. He said, "The best rural noir transports us and traps us in a place with people who are also trapped there by lifetimes of trouble, poverty, obligations, kinship, or an inability to see beyond the next hilltop. In these stories the people are inseparable from the land and its history." That beautifully sums up the people in Chris Harding Thornton's debut novel, Pickard County Atlas. The residents of a county in north-central Nebraska, even a deputy, lead what Thoreau called, "lives of quiet desperation". You can find Pickard County Atlas in the Web Store. https://bit.ly/3rO8CvR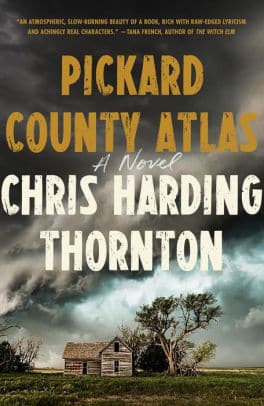 "An atmospheric, slow-burning beauty of a book, rich with raw-edged lyricism and achingly real characters." —Tana French, author of The Searcher

Small-town secrets loom large in this spellbinding debut about the aftershocks of crime and trauma that shake a Nebraskan town.

In a dusty town in Nebraska's rugged sandhills, weary sheriff's deputy Harley Jensen patrols the streets at night, on the lookout for something—anything—out of the ordinary. It's July 1978, and the heat is making people ornery, restless. That and the Reddick family patriarch has decided, decades after authorities ended the search for his murdered boy's body, to lay a headstone. Instead of bringing closure, this decision is the spark that threatens to set Pickard County ablaze.
On a fateful night after the memorial service, Harley tails the youngest Reddick and town miscreant, Paul, through the abandoned farms and homes outside their run-down town. The pursuit puts Harley in the path of Pam Reddick, a restless young woman looking for escape, bent on cutting the ties of motherhood and marriage. Filled with desperate frustration, Pam is drawn to Harley's dark history, not unlike that of her husband, Rick—a man raised in the wreckage of a brother's violent death and a mother's hardened fury.
Unfolding over six tense days, Pickard County Atlas sets Harley and the Reddicks on a collision course—propelling them toward an incendiary moment that will either redeem or end them. Engrossing, darkly funny, and real, Chris Harding Thornton's debut rings with authenticity and a nuanced sense of place even as it hums with menace, introducing an astonishing new voice in suspense.
*****
Chris Harding Thornton, a seventh-generation Nebraskan, holds an MFA from the University of Washington and a PhD from the University of Nebraska, where she currently teaches. She has worked as a quality assurance overseer at a condom factory, a jar-lid screwer at a plastics plant, a closer at Burger King, a record store clerk, an all-ages club manager, and a PR writer. Pickard County Atlas is her first novel.