When I read Jess Lourey's Bloodline, it reminded me of Ira Levin's The Stepford Wives and Rosemary's Baby. I'm not the only one. The reviewer for Publishers Weekly mentioned those books. Doreen Sheridan's review for Criminal Element mentioned those two books, https://bit.ly/2X3tukr If you're a fan of those earlier books, you might want to check out Bloodline. You can order it through the Web Store. https://bit.ly/2rsDgQP
Jess Lourey is the Amazon Charts bestselling author of Unspeakable Things, The Catalain Book of Secrets, the Salem's Cipher thrillers, and the Mira James mysteries, among many other works, including young adult, short stories, and nonfiction. An Agatha, Anthony, and Lefty Award nominee, Jess is a tenured professor of creative writing and sociology and a leader of writing retreats. She is also a recipient of The Loft's Excellence in Teaching fellowship, a Psychology Today blogger, and a TEDx presenter. Check out her TEDx Talk for the inspiration behind her first published novel. When she's not leading writing workshops, reading, or spending time with her friends and family, you can find her working on her next story. Discover more at www.jessicalourey.com.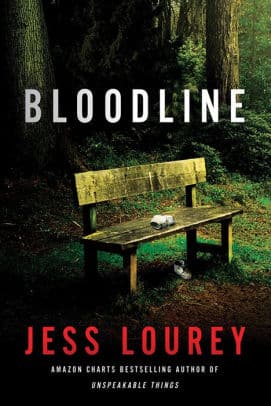 Perfect town. Perfect homes. Perfect families. It's enough to drive some women mad…
In a tale inspired by real events, pregnant journalist Joan Harken is cautiously excited to follow her fiancé back to his Minnesota hometown. After spending a childhood on the move and chasing the screams and swirls of news-rich city life, she's eager to settle down. Lilydale's motto, "Come Home Forever," couldn't be more inviting.
And yet, something is off in the picture-perfect village.
The friendliness borders on intrusive. Joan can't shake the feeling that every move she makes is being tracked. An archaic organization still seems to hold the town in thrall. So does the sinister secret of a little boy who vanished decades ago. And unless Joan is imagining things, a frighteningly familiar figure from her past is on watch in the shadows.
Her fiancé tells her she's being paranoid. He might be right. Then again, she might have moved to the deadliest small town on earth.