John Charles of The Poisoned Pen recently hosted an event, "The Intersection of History and Mystery". Author Dianne Freeman was the moderator of the virtual program featuring Rosemary Simpson and Tessa Arlen. Simpson's latest Gilded Age mystery is Death, Diamonds, and Deception. Tessa Arlen's second Women of World War II mystery is Poppy Redfern and the Fatal Flyers. You can order copies of the books through the Web Store. https://store.poisonedpen.com/
Here is Death, Diamonds, and Deception.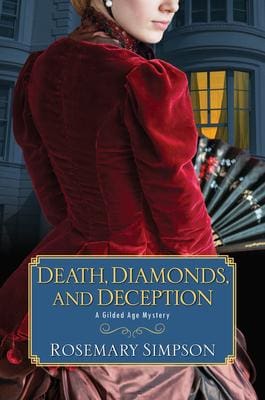 Set amidst the opulent mansions and cobblestone streets of Old New York, this fifth installment in Rosemary Simpson's acclaimed series brings the Gilded Age to life, as heiress Prudence MacKenzie and ex-Pinkerton Geoffrey Hunter dash down a twisted maze from Fifth Avenue to Five Points in pursuit of stolen diamonds once belonging to Marie Antionette …
Fall 1889: Lady Rotherton has arrived from London intent on chaperoning her niece Prudence through a New York social season to find a suitable husband. It's certainly not her niece's devilishly handsome partner in Hunter and MacKenzie Investigative Law. Aunt Gillian's eye for eligible suitors is surpassed only by her ability to discern genuine gems from nearly flawless fakes. At the Assembly Ball at Delmonico's, she effortlessly determines that the stones in the spectacular diamond waterfall necklace adorning the neck of the wife of banker William De Vries are fake.
Insisting on absolute discretion to avoid scandal, the banker employs Prudence and Geoffrey to recover the stolen diamonds pried out of their settings–priceless stones acquired by Tiffany, originally purchased for Marie Antoinette. Their search for a possible fence rapidly leads to a dead end: a jeweler brutally killed in his shop during an apparent theft.
The jeweler's murder is only the first in a string of mysterious deaths, as Prudence and Geoffrey pursue their elusive quarry. But the clues keep leading back to duplicity on the part of the De Vries family, who, it turns out, have a great deal to hide…
*****
Here is the description of Poppy Redfern and the Fatal Flyers.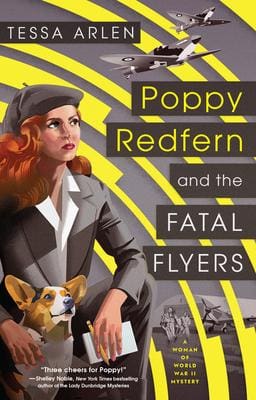 "You'll love this character so much, you'll want her as your best friend."—Alyssa Maxwell, author of the Gilded Newport Mysteries and a Lady and Lady's Maid Mysteries
Poppy Redfern is back on the case when two female fighter pilots take a fatal dive in an all-new Woman of World War II Mystery by Tessa Arlen.
It is the late autumn of 1942. Our indomitable heroine Poppy Redfern is thoroughly immersed in her new job as a scriptwriter at the London Crown Film Unit, which produces short films featuring British civilians who perform acts of valor and heroism in wartime. After weeks of typing copy and sharpening pencils, Poppy is thrilled to receive her first solo script project: a fifteen-minute film about the Air Transport Auxiliary, known as Attagirls, a group of female civilians who have been trained to pilot planes from factories to military airfields all over Britain.
Poppy could not be more excited to spend time with these amazing ladies, but she never expects to see one of the best pilots die in what is being labeled an accident. When another Attagirl meets a similar fate, Poppy and her American fighter-pilot boyfriend, Griff, believe foul play may be at work. They soon realize that a murderer with a desire for revenge is dead set on grounding the Attagirls for good. . . .
*****
Enjoy the conversation about history and mystery.