I just love the cover of Jacqueline Winspear's memoir, This Time Next Year We'll Be Laughing. It's the current Hot Book of the Week at The Poisoned Pen. You can still find a signed copy in the Web Store, along with copies of Winspear's Maisie Dobbs books. https://bit.ly/2JDLy0W
Here's This Time Next Year We'll Be Laughing.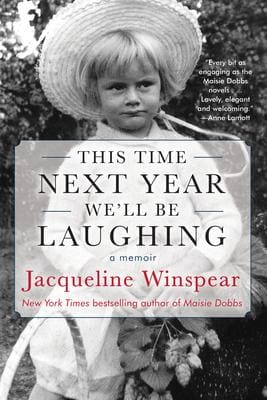 "Jacqueline Winspear has created a memoir of her English childhood that is every bit as engaging as her Maisie Dobbs novels, just as rich in character and detail, history and humanity. Her writing is lovely, elegant and welcoming."—Anne Lamott

The New York Times bestselling author of the Maisie Dobbs series offers a deeply personal memoir of her family's resilience in the face of war and privation. 
 
After sixteen novels, Jacqueline Winspear has taken the bold step of turning to memoir, revealing the hardships and joys of her family history. Both shockingly frank and deftly restrained, her story tackles the difficult, poignant, and fascinating family accounts of her paternal grandfather's shellshock; her mother's evacuation from London during the Blitz; her soft-spoken animal-loving father's torturous assignment to an explosives team during WWII; her parents' years living with Romany Gypsies; and Winspear's own childhood picking hops and fruit on farms in rural Kent, capturing her ties to the land and her dream of being a writer at its very inception.
 
An eye-opening and heartfelt portrayal of a post-War England we rarely see, This Time Next Year We'll Be Laughing chronicles a childhood in the English countryside, of working class indomitability and family secrets, of artistic inspiration and the price of memory.