Barbara Peters, owner of The Poisoned Pen, interviewed author Stuart Turton in a recent virtual event. He's the author of The 7 1/2 Deaths of Evelyn Hardcastle. His latest novel, The Devil and the Dark Water is inspired by a true event. Turton and Peters discuss that historical event. You can order copies of Turton's new book through the Web Store. It comes with a signed book plate and a special tote bag. https://bit.ly/3502hmi
Here's the description of Turton's The Devil and the Dark Water.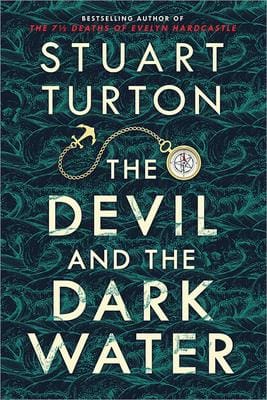 "[An] outstanding whodunit…Fans of impossible crime fiction won't want to miss this one."—Publishers Weekly, STARRED review
The extraordinary new thriller from Stuart Turton, author of the bestselling murder mystery The 7 1/2 Deaths of Evelyn Hardcastle, winner of the Costa Best First Novel Award.
A murder on the high seas. A remarkable detective duo. A demon who may or may not exist.
It's 1634 and Samuel Pipps, the world's greatest detective, is being transported to Amsterdam to be executed for a crime he may, or may not, have committed. Travelling with him is his loyal bodyguard, Arent Hayes, who is determined to prove his friend innocent.
But no sooner are they out to sea than devilry begins to blight the voyage. A twice-dead leper stalks the decks. Strange symbols appear on the sails. Livestock is slaughtered. Anyone could be to blame. Even a demon.
And then three passengers are marked for death, including Samuel.
With Pipps imprisoned, only Arent can solve a mystery that connects every passenger. A mystery that stretches back into their past and now threatens to sink the ship, killing everybody on board.
For fans of Steven King, The Devil and the Dark Water brings a chilling new spin to the Sherlock Holmes detective duo in a thriller of supernatural horror, occult suspicion, and paranormal mystery on the high seas.
*****
Enjoy the virtual event.