As Patrick Millikin from The Poisoned Pen says, the title of Ian Rankin's new Rebus novel, A Song for the Dark Times, seems very appropriate. Rankin looked at some photos of Edinburgh, and described Edinburgh during COVID-19. If you've wondered about the city, you'll want to watch this video as Patrick and Rankin discuss Edinburgh, while he discusses the book with Barbara Peters.
You can order A Song for the Dark Times through the Web Store. https://bit.ly/2MyxBgY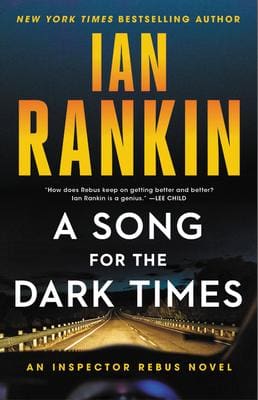 "He's gone…"

When his daughter Samantha calls in the dead of night, John Rebus knows it's not good news. Her husband has been missing for two days.

Rebus fears the worst "" and knows from his lifetime in the police that his daughter will be the prime suspect.

He wasn't the best father "" the job always came first "" but now his daughter needs him more than ever. But is he going as a father or a detective?

As he leaves at dawn to drive to the windswept coast "" and a small town with big secrets "" he wonders whether this might be the first time in his life where the truth is the one thing he doesn't want to find…
A thrilling new Rebus novel about crime, punishment, and redemption, from the Edgar Award-winning "genius" of the genre (Lee Child, bestselling author of the Jack Reacher series)
*****
I think you'll enjoy this virtual event.