Karen Shaver from The Poisoned Pen had the chance to host a virtual event with Brian Freeman. He wrote the latest Jason Bourne novel, Robert Ludlum's The Bourne Evolution. But he was actually talking about his new book, Funeral for a Friend. There are signed copies of both books available through the WebStore, as well as copies of other ones by Freeman. https://bit.ly/34laNw0
Here's Brian Freeman's Funeral for a Friend.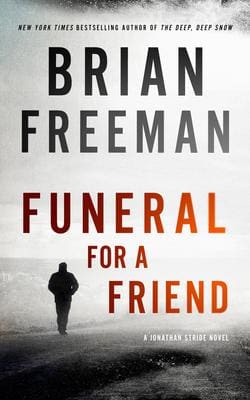 "You're safe, Stride. I found the body at the Deeps. I buried him."
Jonathan Stride's best friend, Steve Garske, makes a shocking deathbed confession: he protected Stride by covering up a murder. Hours later, the police dig up Steve's yard and find a body with a bullet hole in its skull.
Stride is pretty sure he knows who it is. Seven years ago, an out-of-town reporter disappeared while investigating anonymous allegations of rape against a prominent politician. Back then, the police believed that the reporter drowned at a dangerous swimming hole called the Deeps … but the discovery of the body changes everything. Now Stride's partner, Maggie Bei, is forced to ask Stride an uncomfortable question: Did you kill him?
Stride is obviously hiding things. He was the last person to see the reporter alive. And he admits lying to Maggie about that meeting, but won't tell her why. With suspicion in the murder pointing at him, Stride finds himself off the case and on leave from the Duluth Police.
His only ally in clearing his name is his wife, Serena, who retraces the reporter's investigation into the explosive allegations. The clues all point to a hot Duluth summer years earlier that everyone in town would prefer to forget.
Someone was willing to kill rather than let those long-ago secrets come out, and the suspect with the strongest motive … is Stride.
*****
Check out the conversation with Brian Freeman.