Craig Johnson made a virtual appearance at The Poisoned Pen for the release of his sixteenth Walt Longmire novel, Next to Last Stand. If you watch the video of the event, you'll also be able to see TV's Walt Longmire, actor Robert Taylor, who was live from Australia. Before you get that far, though, you'll watch to check out Johnson's books in the Web Store. There might still be signed copies of Next to Last Stand available. https://bit.ly/2Qmogf5
Johnson said he needed to give readers something a little lighter after the last two Longmire books. Here's Next to Last Stand.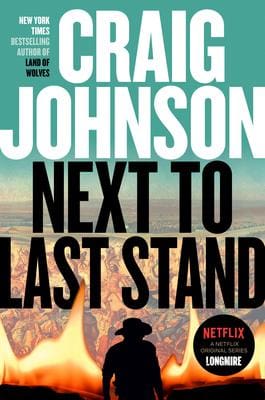 The new novel in the beloved New York Times bestselling Longmire series.
One of the most viewed paintings in American history, Custer's Last Fight, copied and distributed by Anheuser-Busch at a rate of over two million copies a year, was destroyed in a fire at the 7th Cavalry Headquarters in Fort Bliss, Texas, in 1946. Or was it? When Charley Lee Stillwater dies of an apparent heart attack at the Wyoming Home for Soldiers & Sailors, Walt Longmire is called in to try and make sense of a piece of a painting and a Florsheim shoebox containing a million dollars, sending the good sheriff on the trail of a dangerous art heist.
*****
Here's your chance to listen to Craig Johnson, the storyteller.