For some reason, Richard Osman's debut mystery, The Thursday Murder Club, received quite a bit of criticism in Britain. Perhaps it's because he's better known there than he is in the U.S. "Richard Osman has worked as an executive producer on numerous UK shows. Richard's popularity and tremendous knowledge of trivia led to him presenting his own BBC quiz show and several others, as well as being the host of Pointless with 7 million views. He is also a regular on panel shows and writes a column for the Radio Times. He has more than 830k followers across social media."
However, if people were too polite in Britain, Osman might suspect they were planning his murder. He wrote about that in a recent piece for crimereads.com. It's called "All British People are Potential Murderers – That's Why We Love Our Mysteries." You can read it here. https://bit.ly/3mLB6np
You can find The Thursday Murder Club in the Web Store. https://bit.ly/32Vsd2x Frankly, I found it delightful, with four amateur sleuths who are in their seventies and older. Osman treats them with respect. They're savvy, shrewd sleuths. Check out the summary.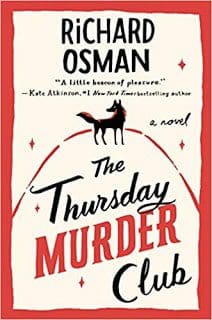 "A little beacon of pleasure in the midst of the gloom…SUCH FUN!"
–Kate Atkinson, #1 New York Times bestselling author of Big Sky

Four septuagenarians with a few tricks up their sleeves
A female cop with her first big case
A brutal murder
Welcome to…
THE THURSDAY MURDER CLUB
In a peaceful retirement village, four unlikely friends meet weekly in the Jigsaw Room to discuss unsolved crimes; together they call themselves The Thursday Murder Club.
When a local developer is found dead with a mysterious photograph left next to the body, the Thursday Murder Club suddenly find themselves in the middle of their first live case.
As the bodies begin to pile up, can our unorthodox but brilliant gang catch the killer, before it's too late?