Author Megan Miranda recently acted as host for Wendy Walker, whose new book, Don't Look for Me, was just released. You can order a signed copy of Walker's book, as well as copies of her other books, through the Web Store. https://bit.ly/3hUeIo6
Here's the summary of Don't Look for Me.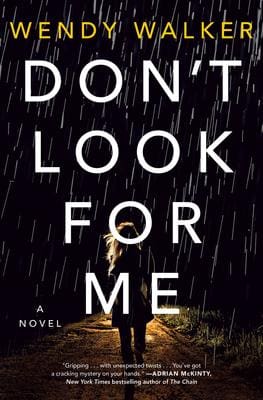 * An Amazon Best Book of the Month (Mystery & Thriller) *
"A twisty, hair-raising tale.""" Newsweek
"A fast-paced psychological drama." "" GMA.com
"Compulsively readable." "" PopSugar
"Reinforces Walker's place at the top of the genre." "" Publishers Weekly (starred review)
"Addictive." "" A.J. Finn, New York Times bestselling author of The Woman in the Window
"Gripping." "" Adrian McGinty, New York Times bestselling author of The Chain
They said she walked away. But what really happened to Molly Clarke?
From the bestselling author of All Is Not Forgotten comes a compelling and emotionally powerful story of a daughter's desperate search to find her mother before it's too late.
They called it a "walk away." The car abandoned miles from home. The note found at a nearby hotel. The shattered family. It happens all the time. Women disappear, desperate to start over. But what really happened to Molly Clarke?
The night Molly disappeared began with a storm, running out of gas, and a man offering her a ride to safety. But when the doors lock shut, Molly begins to suspect she has made a terrible mistake.
A new lead brings Molly's daughter, Nicole, back to the small, desolate town where her mother was last seen to renew the desperate search. The locals are sympathetic and eager to help. The innkeeper. The bartender. Even the police. Until secrets begin to reveal themselves and Nicole comes closer to the truth about that night—and the danger surrounding her.
*****
Or, here's another way of looking at the book. Adam Walker's GifNotes at Criminal Element, provides the basic elements of the book with the help of Gifs. https://bit.ly/33IHSBE
*****
You can listen to the conversation between Wendy Walker and Megan Miranda via The Poisoned Pen's podcast. https://youtu.be/bQ9jKkb73A0