It's an hour of unforgettable storytelling. James Lee Burke did a virtual event for The Poisoned Pen, talking with Patrick Millikin. Of course, they talked about A Private Cathedral, the latest Dave Robicheaux, Burke's fortieth book. But there was so much more ground to cover as James Lee Burke told stories of writing and other authors. You can find a copy (hopefully still a signed one) of A Private Cathedral in the Web Store, along with copies of Burke's other books. https://bit.ly/2SJ8gVl
Here's the summary of A Private Cathedral.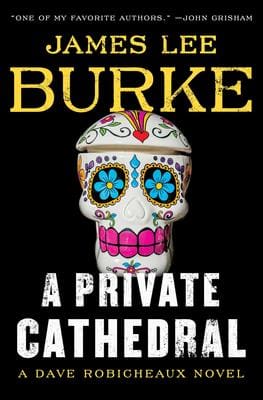 After finding himself caught up in one of Louisiana's oldest and bloodiest family rivalries, Detective Dave Robicheaux must battle the most terrifying adversary he has ever encountered: a time-traveling superhuman assassin.
The Shondell and Balangie families are longtime enemies in the New Iberia criminal underworld and show each other no mercy. Yet their youngest heirs, Johnny Shondell and Isolde Balangie, rock and roll-musician teenagers with magical voices, have fallen in love and run away after Isolde was given as a sex slave to Johnny's uncle.
As he seeks to uncover why, Detective Dave Robicheaux gets too close to both Isolde's mother and the mistress of her father, a venomous New Orleans mafioso whose jealousy has no bounds. In retribution, he hires a mysterious assassin to go after Robicheaux and his longtime partner, Clete Purcel. This hitman is unlike any the "Bobbsey Twins from Homicide" have ever faced. He has the ability to induce horrifying hallucinations and travels on a menacing ghost ship that materializes without warning. In order to defeat him and rescue Johnny and Isolde, Robicheaux will have to overcome the demons that have tormented him throughout his adult life—alcoholism, specters from combat in Vietnam, and painful memories of women to whom he opened his heart only to see killed.
A Private Cathedral, James Lee Burke's fortieth book, is his most powerful tale, one that will captivate readers—mixing crime, romance, mythology, horror, and science fiction to produce a thrilling story about the all-consuming, all-conquering power of love.
*****
You'll want to see this conversation with James Lee Burke.