New York Times bestselling author, Catherine Coulter, was recently the online guest for an author event at The Poisoned Pen. Her 24th FBI thriller, Deadlock, has just been released. You can order copies of her books, including a signed copy of Deadlock, through the Web Store. https://bit.ly/3kvw2lO
Here's the summary of Deadlock.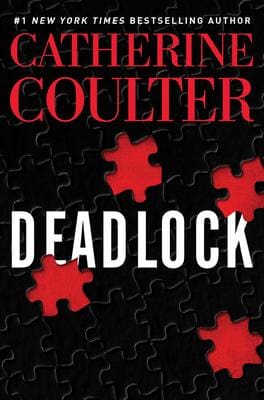 This exhilarating FBI thriller by #1 New York Times bestselling author Catherine Coulter finds Savich and Sherlock confronting two baffling mysteries.
A young wife is forced to confront a decades-old deadly secret when a medium connects her to her dead grandfather.
A vicious psychopath wants ultimate revenge against Savich, but first, she wants to destroy what he loves most—his family.
A series of three red boxes are delivered personally to Savich at the Hoover Building, each one containing puzzle pieces of a town only FBI agent Pippa Cinelli recognizes. Savich sends in Cinelli to investigate undercover but someone knows who she is.
Savich and Sherlock are up to their eyebrows in danger, but can they figure out the red box puzzle and the young wife's secret before it's too late?
*****
Here's Catherine Coulter in conversation with Barbara Peters, owner of The Poisoned Pen.