Some authors are just better interviews than others, and Karen Dionne does an excellent job in her conversation with Barbara Peters, owner of The Poisoned Pen. Dionne, the author of The Marsh King's Daughter, now has released her second novel, The Wicked Sister. Both books, standalones, but sharing a similar setting in the Upper Peninsula of Michigan, are available through the Web Store. https://bit.ly/2DBENKx
Here's the summary of Dionne's The Wicked Sister.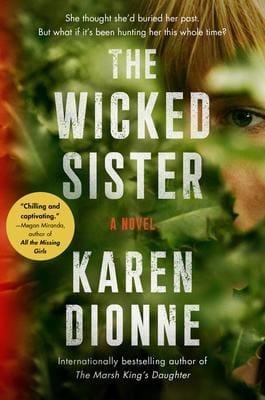 She thought she'd buried her past. But what if it's been hunting her this whole time?

From the bestselling and award-winning author of The Marsh King's Daughter comes a startling novel of psychological suspense as two generations of sisters try to unravel their tangled relationships between nature and nurture, guilt and betrayal, love and evil.
You have been cut off from society for fifteen years, shut away in a mental hospital in self-imposed exile as punishment for the terrible thing you did when you were a child.
But what if nothing about your past is as it seems?
And if you didn't accidentally shoot and kill your mother, then whoever did is still out there. Waiting for you.
For a decade and a half, Rachel Cunningham has chosen to lock herself away in a psychiatric facility, tortured by gaps in her memory and the certainty that she is responsible for her parents' deaths. But when she learns new details about their murders, Rachel returns, in a quest for answers, to the place where she once felt safest: her family's sprawling log cabin in the remote forests of Michigan's Upper Peninsula.
As Rachel begins to uncover what really happened on the day her parents were murdered, she learns–as her mother did years earlier–that home can be a place of unspeakable evil, and that the bond she shares with her sister might be the most poisonous of all.
*****
You can watch Karen Dionne's author event here.