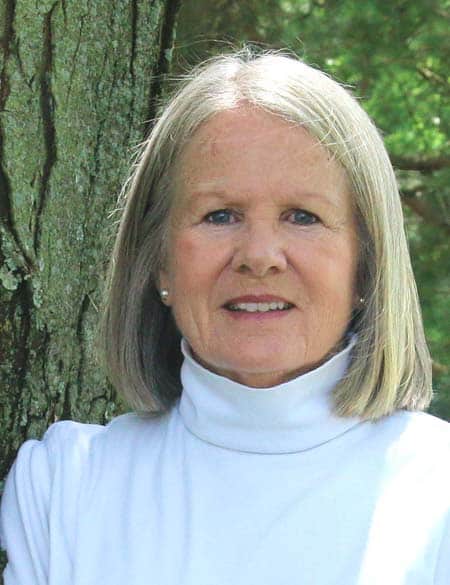 If you're a dog person, you're going to love the covers of Laurien Berenson's Melanie Travis mysteries. If you're a reader, you'll enjoy her post about books. So, we're lucky she was willing to talk about what she's been reading during the pandemic. You can find Berenson's books in the Web Store. https://bit.ly/30kLmJ1
Laurien Berenson is an Agatha and Macavity nominee, winner of the Romantic Times Reviewers' Choice Award, and four-time winner of the Maxwell Award, presented by the Dog Writers Association of America. She and her husband live on a farm in Kentucky surrounded by dogs and horses. Readers can visit her website at: www.LaurienBerenson.com.
*****
You can find all the books Berenson selects through the Web Store. https://store.poisonedpen.com/
*****
I've spent entirely too much time inside my house over the last few months. It's reached the point where even my dog thinks I should be getting out more. Having now resigned myself to living in pants with elastic waistbands, I've decided to look on the bright side and celebrate all the extra time I'm able to spend reading.
Ever since I was a small child, I've been a voracious reader. My TBR pile regularly overflows its shelf and become a stack on the floor. To me, there's almost nothing more exciting than opening a new book, starting a new story, and discovering where an author's creativity is going to take me this time.
My favorite books are those that whisk me away from everyday life. Ones that offer an enthralling journey, or give me a glimpse into lives and places that are different than those I've experienced. Here are several books that accomplished that goal beautifully.
Murder in an Irish Pub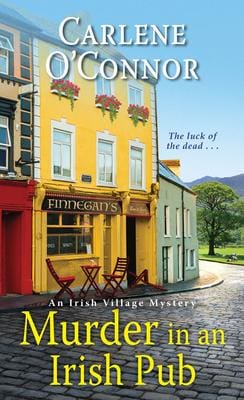 Carlene O'Connor's Irish Village cozy series always make me laugh. Especially now, what a wonderful diversion that is. Shiobhan O'Sullivan is both witty and wise as she solves crime while deftly wrangling the lives of her five younger siblings. Set in Kilbane, Ireland, this book is steeped in Irish mysticism and folklore. O'Connor does a wonderful job of bringing the Irish countryside to brilliant,  entertaining life. Bring on the next adventure! I'm already waiting for it.
Pumpkin Spice Peril (Jenn McKinlay).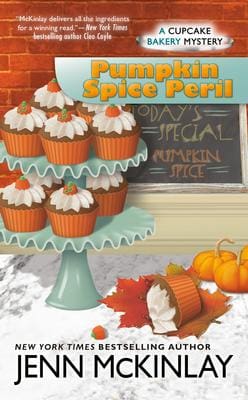 This Cupcake Bakery series is now twelve books strong and it's easy to understand why. I love the realistic relationships among the four main characters (Melanie Cooper, her fiancé Joe DeLaura, Angie Harper and her husband, Tate). The friendship between bakers Melanie and Angie rings particularly true—I wish these two women were my best friends. This book centers around the local art scene in Old Town Scottsdale. When a talented glass artist dies after eating Melanie's cupcakes, Melanie has no choice but to investigate. An intriguing mystery and mouthwatering recipes. What's not to like?
Dangerous to Know (Renee Patrick).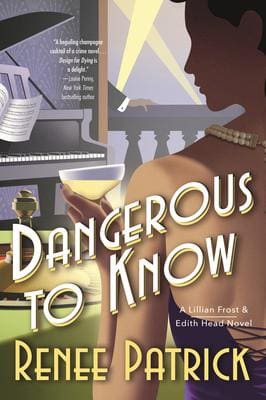 I know next to nothing about the movie industry, and even less about Hollywood in 1938–but Renee Patrick's vivid prose drew me in and immediately made me feel at home. I loved the cameo appearances by real people (most notably Marlene Dietrich and costume designer Edith Head.) When a nightclub pianist with friends in high places disappears, social secretary Lillian Frost is tasked with locating him. Instead she stumbles over his dead body. Rife with old Hollywood glamour, this book is bubbly and fun and better than an afternoon at the movies. 
*****
Laurien Berenson's books are available in the Web Store. https://store.poisonedpen.com/ Game of Dog Bones, the most recent Melanie Travis Canine Mystery, was released at the end of June. Just look at that face!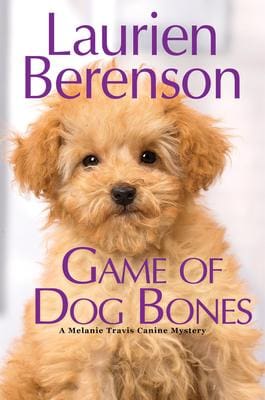 Standard Poodle owner Melanie Travis is an excellent judge of dogs—and people. But what happens when an unnamed killer emerges at one of the fiercest all-breed competitions ever?
 
As Greenwich, Connecticut, slows down during a bitterly cold February, Melanie and her spunky Aunt Peg head to the city that never sleeps for the Westminster Kennel Club Dog Show at Madison Square Garden. Aunt Peg can't wait to demonstrate her judging chops on national TV, even after being hounded by frustrating mishaps—all seemingly orchestrated by Victor Durbin, an ousted Paugussett Poodle Club member with a bone to pick. But the bright lights of the show ring grow dim when Victor is found murdered, and she's the one topping the suspect list . . .
 
Driven to solve the crime on her aunt's behalf, Melanie fetches hair-raising clues about the victim. Victor didn't score many friends with his unethical breeding practices, sketchy puppy café, and penchant for mercilessly scamming others to get ahead. He burned so many bridges that his own business partner admits to being delighted by news of his death. It appears Victor finally toyed with the wrong person, and as Melanie digs up more chilling evidence, she realizes that exonerating Aunt Peg means confronting a murderer who's in it to win it . . .
*****
Howloween Murder will be released August 25. Pre-orders always help the author, the bookstore, and you, so don't hesitate to order the mystery now.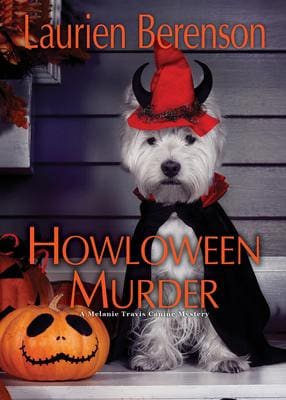 As the town of Greenwich, Connecticut, counts down to a spooky celebration on October 31st, a horrifying murder leaves Melanie Travis pawing for clues in a hair-raising game of trick-or-treat . . .

With just a few days left before Halloween, everyone at Howard Academy is anticipating the guaranteed sugar high they'll experience from gorging on Harriet Bloom's famous marshmallow puffs. The private school's annual costume party revolves around the headmaster's assistant and her seemingly supernatural batches of gooey goodies. So, it's a shock when Harriet's elderly neighbor is suddenly found dead with the beloved dessert in his hand. In a snap, police start questioning whether Harriet modified her top-secret recipe to include a hefty dose of lethal poison . . .
 
Melanie knows her tenured colleague would never intentionally serve cyanide-laced puffs to a defenseless old man. But as explosive neighborhood gossip reveals a potential culprit, it also brings her closer to sealing her own doom. Because on an evening ruled by masked revelers, bizarre getups, and hidden identities, Halloween might just be the perfect opportunity for a cold-hearted killer to get away with murder once again—this time sending a nosy, unsuspecting sleuth to an early grave!