Wait until you hear the conversation between author Jack Carr and Barbara Peters, owner of The Poisoned Pen. He's so enthusiastic about writing, and so grateful to, and enthusiastic about author Brad Thor. Carr's third book, Savage Son, was released in April. Signed copies are still available through the Web Store. https://bit.ly/2DWEvxX
Here's the information about Savage Son.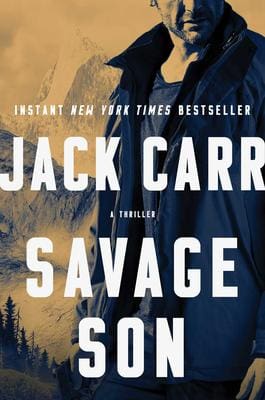 INSTANT NEW YORK TIMES BESTSELLER
INSTANT USA TODAY BESTSELLER
"A great book…it's f*cking riveting!" —Joe Rogan
"A rare gut-punch writer, full of grit and insight, who we will be happily reading for years to come." —Gregg Hurwitz, New York Times bestselling author of the Orphan X series
In this third high-octane thriller in the "seriously good" (Lee Child, #1 New York Times bestselling author) Terminal List series, former Navy SEAL James Reece must infiltrate the Russian mafia and turn the hunters into the hunted.
Deep in the wilds of Siberia, a woman is on the run, pursued by a man harboring secrets—a man intent on killing her.
A traitorous CIA officer has found refuge with the Russian mafia with designs on ensuring a certain former Navy SEAL sniper is put in the ground.
Half a world away, James Reece is recovering from brain surgery in the Montana wilderness, slowly putting his life back together with the help of investigative journalist Katie Buranek and his longtime friend and SEAL teammate Raife Hastings. Unbeknownst to them, the Russian mafia has set their sights on Reece in a deadly game of cat and mouse.
In his most visceral and heart-pounding thriller yet, Jack Carr explores the darkest instincts of humanity through the eyes of a man who has seen both the best and the worst of it.
*****
But, Carr was also talking about Brad Thor's Scot Harvath books. The Poisoned Pen will do the virtual release for Thor's book, Near Dark, on Monday, July 20.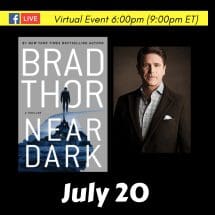 You might want to order a signed copy of Near Dark now while they're available. https://bit.ly/3ha63On
Here's the summary of Near Dark.
Scot Harvath returns in the newest thriller from #1 New York Times bestselling author Brad Thor.
The world's largest bounty has just been placed upon America's top spy. His only hope for survival is to outwit, outrun, and outlast his enemies long enough to get to the truth.
But for Scot Harvath to accomplish his most dangerous mission ever—one that has already claimed the lives of the people closest to him, including his new wife—he's going to need help—a lot of it.
Not knowing whom he can trust, Harvath finds an unlikely ally in Norwegian intelligence operative Sølvi Kolstad. Just as smart, just as deadly, and just as determined, she not only has the skills, but also the broken, troubled past to match Harvath's own.
*****
I think you'll enjoy this conversation with Jack Carr and Barbara Peters.
If you'd prefer to listen to the podcast, it's available as well.