With the announcement that Ryan Gosling and Chris Evans are going to star in "The Gray Man" feature film for Netflix (https://bit.ly/3h7qOua), you might want to pick up a copy of Mark Greaney's first book in the series, The Gray Man. The Deadline article says, "Fresh from a robust earnings report that saw it add 10 million subscribers during the pandemic, Netflix has just set its most financially ambitious feature film so far. Ryan Gosling and Chris Evans are set to star in The Gray Man, with Joe & Anthony Russo directing their first blockbuster since setting the all-time global box office record with Avengers: Endgame two years ago. The intention here is to create a new franchise with a James Bond-level of scale and a budget upwards of $200 million."
Although the movie certainly won't be the same as the book, why not start where it all began? Mark Greaney's books, including The Gray Man, can be ordered through the Web Store. https://bit.ly/2o92azg
Here's the summary of The Gray Man.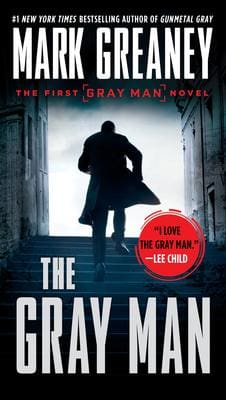 THE FIRST GRAY MAN NOVEL FROM #1 NEW YORK TIMES BESTSELLING AUTHOR MARK GREANEY
"Hard, fast, and unflinching—exactly what a thriller should be."—Lee Child
To those who lurk in the shadows, he's known as the Gray Man. He is a legend in the covert realm, moving silently from job to job, accomplishing the impossible and then fading away. And he always hits his target. Always.
But there are forces more lethal than Gentry in the world. Forces like money. And power. And there are men who hold these as the only currency worth fighting for. And in their eyes, Gentry has just outlived his usefulness.

But Court Gentry is going to prove that, for him, there's no gray area between killing for a living and killing to stay alive…