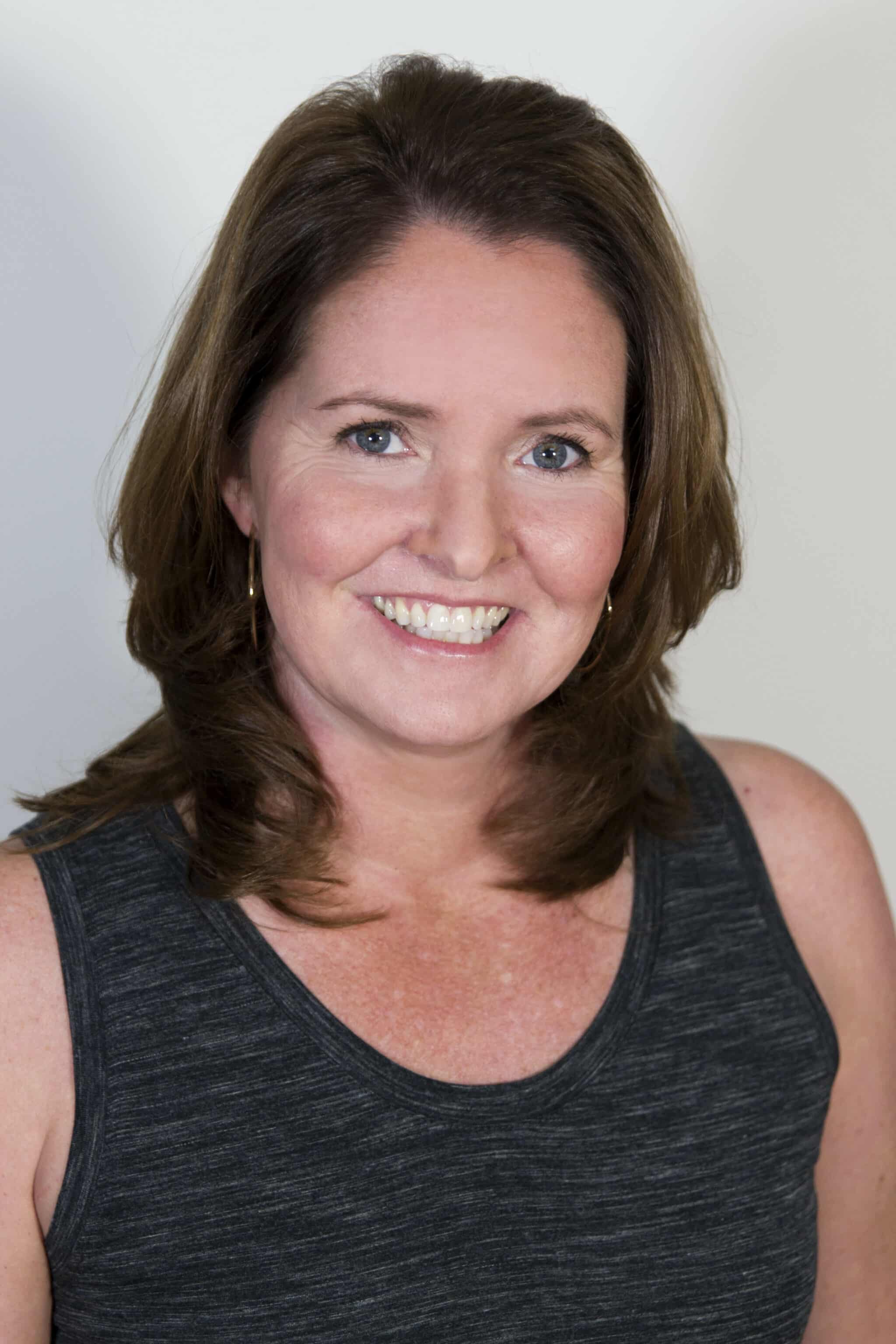 Some readers may know Laura Bradford from her Amish Mystery series. However, she also writes women's fiction, and her July 28 release, Piece by Piece, falls in that category. With the pandemic, publishers are releasing fewer print copies of books, so it's even more important to pre-order a book if you really want to read it. You can order Bradford's books, including Piece by Piece, through the Web Store. https://bit.ly/2OzWj3C
Laura Bradford is the national bestselling author of more than 35 books, including her latest women's fiction release, Piece by Piece. Her first women's fiction novel, Portrait of a Sister, was a July 2018 Book Club Pick for Delilah of Delilah Radio and a Summer Book Club pick for Southern Lady Magazine.  
"‹Laura also pens several mystery series including; An Amish Mystery series, the Emergency Dessert Squad Mysteries, the Tobi Tobias Mysteries, the Southern Sewing Circle Mysteries (written as Elizabeth Lynn Casey), and a brand new cozy series that will debut with Penguin/Random House in Summer 2021. She is a former Agatha Award nominee, and the recipient of an RT Reviewer's Choice Award in romance. Laura enjoys baking, spending time with her family, and being an advocate for those living with multiple sclerosis.  Learn more at: https://www.laurabradford.com/
Laura Bradford's book suggestions can be ordered through the Web Store. https://store.poisonedpen.com/
*****
Prior to the start of the Pandemic, I'd settled into a nice reading routine that coincided with my time on the elliptical at the gym. Every four or five workouts, it was time for another book. Months (and years) of that routine meant I got caught up on beloved authors, and found (and devoured) new-to-me writers that were so good I went on to read my way through their backlist. It was a total win-win as far as routines went.
Then came March and New York's shelter-in-place order, taking with it my daily workouts and all of those wonderful built-in hours with which I read. Suddenly that block of time I'd so carefully guarded just fell away. Now, I still do workouts (when I think about it), but without the gym, they've taken the form of long hikes through the woods, or huffing and puffing on a mat in front of my TV—neither of which lends itself to reading time. And after the workout? Well, then it's time to write…or spend time with my daughter…or check in on one of my elderly relatives…or a million other things.
But here's the thing. Reading is, and always has been, a trusted friend in my life—a guaranteed escape hatch when times are tough. Unfortunately, every time I tried to sit down and read those first few months, it was hard to focus, hard to set aside the real world and its uncertainty. Finally, out of sheer desperation, I grabbed one of my favorites from my re-read pile. Thankfully, that did the trick and soon, I was reaching into my To-Be-Read pile for another book, and another book, and another book.
Sure, the world is still upside down; still as scary as it was back in March. But now, thanks to the stories and worlds created by so many amazing authors, I'm able to lose myself in places where I can forget…and imagine…and hope…and breathe, even if only for a little while.
As for what I've been/am reading? Well, I'll start with the re-read I pulled out of my favorites pile—the one that got me back on track in the reading department.
Good Luck With That by Kristan Higgins.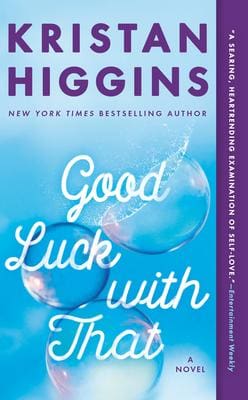 What can I say? I adore this book. In fact, the first time I read it (at the gym), I re-read it again as soon as I was done. I'm not sure I've ever done that with another book. But something about these characters—Emerson, Georgia, and Marley—speaks to me. It's a story about learning to love who you are as you are, and to see yourself as worthy, and special, and important. These women leap off the page and I'm a better person for having met them.
My current read is Wendy Wax's My Ex-Best Friend's Wedding.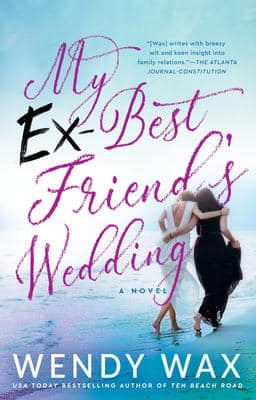 The story centers around a wedding dress that ties three women together—women who were once close, but, because of broken promises and unfilled dreams, are no longer in each other's lives the way they once were, or should be…
I'm loving the set-up and the characters Wendy has created in this hard-to-put-down (yay!) book.
Next up?  Outsider by Linda Castillo.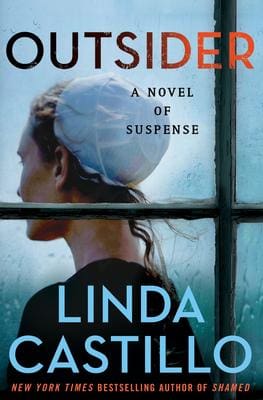 I am a huge, huge, HUGE fan of Linda's Kate Burkholder series. Every year, I circle (in pen) her release date on my calendar and block off two or three days to read it—although, truth be told, I usually read it in one sitting. Of course, when I do, I realize I have to wait twelve months for another…
Anyway, this 12th installment of the series is waiting at the very top of my TBR pile, and from what I gather, Kate and the dashingly rugged (and dare I say, oh so delicious) John Tomasetti are going to go to the mat for an old academy classmate friend of Kate's who is on the run from the cops. And, according to the blurb on the cover, "as Kate gets closer to the truth, a killer lies in wait. When violence strikes, she must confront a devastating truth that changes everything she thought she knew not only about friendship, but the institution to which she's devoted her life."
I get giddy just reading that, don't you? So, yeah… I. Can't. Wait. To. Read. This.
*****
Every time Laura Bradford writes a new Amish mystery, "I. Can't. Wait. To. Read." it. You may feel the same way about her new release, Piece by Piece.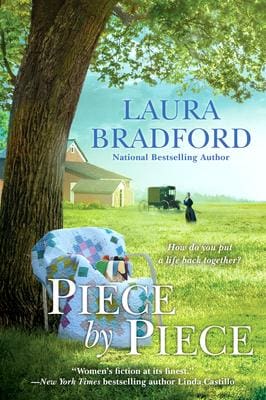 A grieving mother learns to heal in Amish country, in this heartfelt, beautifully told novel from national bestselling author Laura Bradford.

Danielle Parker is a gold-medal mom—the kind who volunteers in her children's classrooms, shuttles them between activities, throws legendary birthday parties, and has a remedy on hand for any emergency. Whatever her husband, Jeff, and their children need, Dani is there, always.
Except for one day.
On that day—the day that Dani reluctantly takes some "me time" while her mom and Jeff drive the children to the park—the unthinkable happens. The car crash leaves no survivors. Somehow, Dani gets through the funerals and visits, accepting neighbors' sympathy and dropped-off meals. All the while, guilt and grief make her wish the accident had claimed her life too. Then a call comes from Lydia Schlabach, an Amish woman Dani befriended in childhood. In addition to condolences, Lydia offers Dani something more: a place to escape to.
In Pennsylvania's Amish country, Dani's days take on a new rhythm, marked by the clip-clop of buggies and the bustle of chores. Lydia gives Dani space to mourn, to think, and to realize how long it's been since she felt like a person in her own right. And with the help of friendships old and new, Dani learns about the ways life continues to surprise us—even after the deepest loss—with joy, love, and second chances. . . .
Praise for Portrait of a Sister
"Laura Bradford is a master storyteller; this book will stay with you for a long, long time." —New York Times bestselling author Tasha Alexander
 "A charming, well-told story of love and devotion between sisters."
—New York Times bestselling author Rachel Hauck
*****
The most recent in Laura Bradford's Amish Mystery series, A Killer Carol, is available in the Web Store now.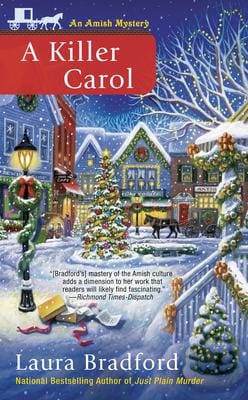 Heavenly, PA has been transformed into a Christmas wonderland, and Claire is delighted to celebrate the season…but a fiendish killer has other plans in this all-new installment in the national bestselling series.
As the owner of Heavenly Treasures, the local gift shop, Claire is busier than ever helping her English customers (and even a few of her Amish friends, like Esther and Ben) find the perfect gift for the special people on their shopping list.
Claire makes sure she has time for her boyfriend, Detective Jakob Fisher. But the man, who was raised and then shunned by the Amish over his choice of career, has been unusually secretive lately. She tries not to worry, to trust their relationship, but trying and doing aren't exactly matching up.
Before she can figure out what's going on with Jakob, word comes that Ruth and Samuel Yoder are being questioned in the death of an elderly Amish couple, found murdered not long after the newlyweds were seen leaving the victims' farm. Ruth, in turn, seeks Claire's help in convincing the police that she and Samuel had nothing to do with what happened. But when Claire comes across a cryptic note tucked inside the wedding gift the victims had given the newlyweds no more than an hour before their murder, she finds herself in dire need of a little convincing as well.
Can Claire get to the bottom of things in time to ensure a merry Christmas for all?