It's not often that The Poisoned Pen highlights a true crime book. Patrick Millikin recently interviewed Mark Bowden, the journalist author of The Case of the Vanishing Blonde and Other True Crime Stories. You can pre-order a copy, and order copies of Bowden's other books, through the Web Store. https://bit.ly/2G31ggV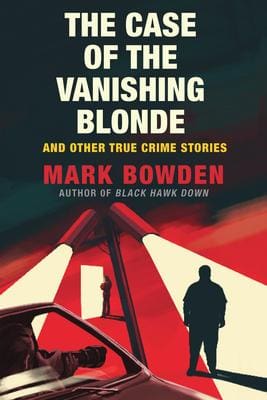 From Mark Bowden, a "master of narrative journalism" (New York Times), comes a true-crime collection both deeply chilling and impossible to put down.
Six captivating true-crime stories, spanning Mark Bowden's long and illustrious career, cover a variety of crimes complicated by extraordinary circumstances. Winner of a lifetime achievement award from International Thriller Writers, Bowden revisits inThe Case of the Vanishing Blonde some of his most riveting stories and examines the effects of modern technology on the journalistic process.
From a story of a campus rape at the University of Pennsylvania in 1983 that unleashed a moral debate over the nature of consent when drinking and drugs are involved to three cold cases featuring the inimitable Long Island private detective Ken Brennan and a startling investigation that reveals a murderer within the LAPD's ranks, shielded for twenty six years by officers keen to protect one of their own, these stories are the work of a masterful narrative journalist at work. Gripping true crime from a writer the Washington Post calls "an old pro."
*****
You can watch the entire conversation between Mark Bowden and Patrick Millikin here.