John Charles of The Poisoned Pen staff recently hosted two cozy mystery authors, Abby Collette and Ellie Alexander. Collette's latest books is A Deadly Inside Scoop. The eleventh book in Ellie Alexander's Bakeshop Mystery series is Nothing Bundt Trouble. You can order books by both authors through the Web Store. https://store.poisonedpen.com/
You can listen to the conversation here.
https://www.podbean.com/eu/pb-u7f2k-e201f2
Here's the summary of Abby Collette's A Deadly Inside Scoop.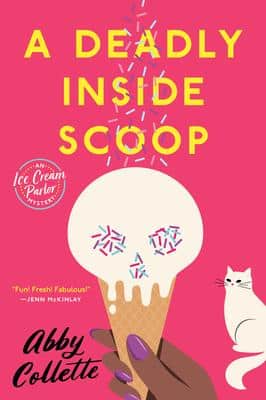 This book kicks off a charming cozy mystery series set in an ice cream shop—with a fabulous cast of quirky characters.
Recent MBA grad Bronwyn Crewse has just taken over her family's ice cream shop in Chagrin Falls, Ohio, and she's going back to basics. Win is renovating Crewse Creamery to restore its former glory, and filling the menu with delicious, homemade ice cream flavors—many from her grandmother's original recipes. But unexpected construction delays mean she misses the summer season, and the shop has a literal cold opening: the day she opens her doors an early first snow descends on the village and keeps the customers away.
To make matters worse, that evening, Win finds a body in the snow, and it turns out the dead man was a grifter with an old feud with the Crewse family. Soon, Win's father is implicated in his death. It's not easy to juggle a new-to-her business while solving a crime, but Win is determined to do it. With the help of her quirky best friends and her tight-knit family, she'll catch the ice cold killer before she has a meltdown…
*****
Ellie Alexander's Nothing Bundt Trouble is here.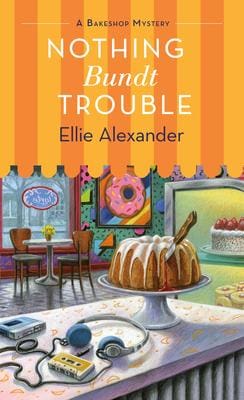 This time, Torte's pastry chef and amateur sleuth finds herself coming out of the oven and straight into the fire in Ellie Alexander's Nothing Bundt Trouble: A Bakeshop Mystery.
Spring has sprung in Ashland, Oregon, and everything at Torte seems to be coming up buttercream roses. But just when Juliet Capshaw seems to have found her sweet spot—with her staff set to handle the influx of tourists for this year's Shakespeare festival while she moves back into her childhood home—things take a dramatic turn. Jules discovers a long-forgotten dossier in her deceased father's belongings that details one of the most controversial cases in Ashland's history: a hit-and-run accident from the 1980s. Or was it?
Now it's up to Jules to parse through a whole new world of details from another era, from unraveling cassette tapes to recipes for Bundt cakes, before an old enemy brings the Capshaw "pastry case" to a modern-day dead end.
The Bakeshop Mysteries are:
"Delicious."—RT Book Reviews
"Marvelous."—Fresh Fiction
"Delectable."—Portland Book Review