J.A. Jance is a popular author in Arizona and at The Poisoned Pen. She appears regularly there, but it was a little different for her to do a virtual event for her latest book, Credible Threat. You can still order a signed copy through the Web Store. https://bit.ly/2YMoWzi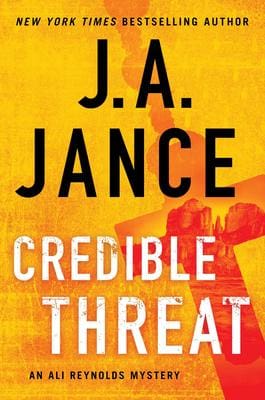 Here's the description of Credible Threat.
Ali Reynolds and her team at High Noon Enterprises must race against the clock to save an archbishop who faces mysterious death threats in yet another "incredible" (Suspense Magazine) installment of J.A. Jance's New York Times bestselling series.
Years after her son's fatal overdose, grieving mother Rachel Higgins learns that his addiction may have grown out of damage suffered at the hands of a pedophile priest while he was in high school. Looking for vengeance, she targets the Catholic Church's most visible local figure, Archbishop Francis Gillespie. When the archbishop begins receiving anonymous threats, local police dismiss them, saying they're not credible. So he turns to his friends, Ali Reynolds and her husband, B. Simpson.
With B. out of the country on a cybersecurity emergency, it's up to Ali to track down the source of the threats. When a shooter assassinates the archbishop's driver and leaves the priest himself severely injured, Ali forms an uneasy alliance with a Phoenix homicide cop in hopes of preventing another attack. But Ali doesn't realize that the killer has become not only more unhinged but also more determined to take out his or her target.
*****
You can watch the virtual event with J.A. Jance here.