Let's switch things up a little bit today. John Charles from The Poisoned Pen recently talked with two authors about their current books, Kate Carlisle and Jill Orr. Kate Carlisle's latest book is The Grim Reader, and Orr's new one is The Full Scoop. You can order signed copies of the books through the Web Store. https://store.poisonedpen.com/
Instead of a video, today we have a podcast of the event with the two authors. You can listen to the conversation here. https://www.podbean.com/ew/pb-yuvpw-dfce6c
Here are the summaries of the books.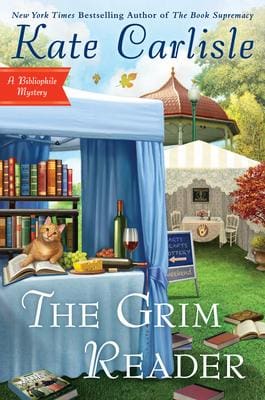 San Francisco book-restoration expert Brooklyn Wainwright was hoping for a fun, relaxing weekend at a local book fair, but a murderer made other plans in the latest in this New York Times bestselling series.
Brooklyn and her new hunky husband, Derek, are excited to be guests at Dharma's first annual Book Festival. The entire town is involved and Brooklyn's mom Rebecca is taking charge. In addition to all of her other event related duties, she's got Brooklyn doing rare book appraisals and is also staging Little Women, the musical to delight the festival goers. If that wasn't enough, she and Meg—Derek's mom—will have a booth where they read palms and tarot cards.
Brooklyn couldn't be prouder of her mom's do-it-all attitude so when a greedy local businessman who seems intent on destroying Dharma starts harassing Rebecca, Brooklyn is ready to take him down. Rebecca is able to hold her own with the nasty jerk until one of her fellow festival committee members is brutally murdered and the money for the festival seems to have vanished into thin air. 
Things get even more personal when one of Brooklyn's nearest and dearest is nearly run down in cold blood. Brooklyn and Derek go into attack mode and the pressure is on to catch a spineless killer before they find themselves skipping the festival for a funeral.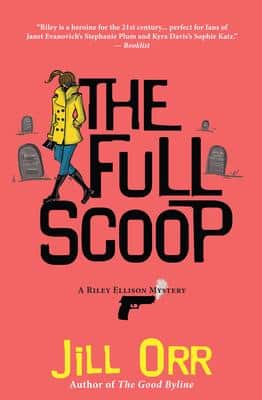 Reeling after tragedy hits close to home, young journalist Riley Ellison becomes obsessed with uncovering the secret that led to her grandfather's murder years before and that just took another life in Tuttle Corner. Her desperate search for answers leads her down a dark path, both personally and professionally, as she struggles with how far she's willing to go to get answers. Just as she finally discovers the truth, she's forced to choose between exacting justice and protecting the people she loves most. With pressure coming in from all sides, Riley has to look deep within to decide if she can let go of the past in order to hold on to the future.