Congratulations to all of the 2020 Anthony Award nominees. They were announced by Bouchercon this week. A special hat tip goes to Poisoned Pen Press author Wendall Thomas whose Drowned Under is a nominee for Best Paperback Original.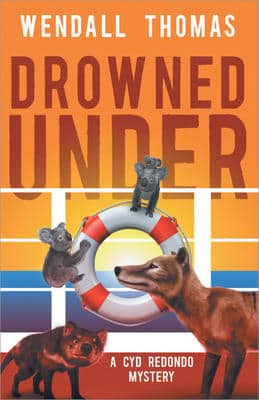 Look for the nominees in the Web Store. https://store.poisonedpen.com/
ANTHONY AWARDS
June 8, 2020
SACRAMENTO—Bouchercon, the world mystery convention, is pleased to announce the nominees for its prestigious Anthony Award. Awards voting will take place during Virtual Bouchercon, October 16″"7, 2020, and the awards will be presented as part of an online ceremony on October 17.
2020 ANTHONY AWARD NOMINEES
BEST NOVEL
Your House Will Pay, by Steph Cha (Ecco)
They All Fall Down, by Rachel Howzell Hall (Forge)
Lady in the Lake, by Laura Lippman (William Morrow)
The Murder List, by Hank Phillippi Ryan (Forge)
Miami Midnight, by Alex Segura (Polis Books)
BEST FIRST NOVEL
The Ninja Daughter, by Tori Eldridge (Agora Books)
Miracle Creek, by Angie Kim (Sarah Crichton Books)
One Night Gone, by Tara Laskowski (Graydon House)
Three-Fifths, by John Vercher (Agora Books)
American Spy, by Lauren Wilkinson (Random House)
BEST PAPERBACK ORIGINAL**
The Unrepentant, by E.A. Aymar (Down & Out Books)
Murder Knocks Twice, by Susanna Calkins (Minotaur)
The Pearl Dagger, by L.A. Chandlar (Kensington)
Scot & Soda, by Catriona McPherson (Midnight Ink)
The Alchemist's Illusion, by Gigi Pandian (Midnight Ink)
Drowned Under, by Wendall Thomas (Poisoned Pen Press)
The Naming Game, by Gabriel Valjan (Winter Goose Press)
BEST CRITICAL NON-FICTION WORK
Hitchcock and the Censors, by John Billheimer (University Press of Kentucky)
The Hooded Gunman: An Illustrated History of the Collins Crime Club, by John Curran (Collins Crime Club)
The Mutual Admiration Society: How Dorothy L. Sayers and her Oxford Circle Remade the World for Women, by Mo Moulton (Basic Books)
The Trial of Lizzie Borden: A True Story, by Cara Robertson (Simon & Schuster)
The Five: The Untold Stories of the Women Killed by Jack the Ripper, by Hallie Rubenhold (Houghton Mifflin Harcourt)
BEST SHORT STORY
"Turistas," by Hector Acosta (appearing in ¡Pa'que Tu Lo Sepas!: Stories to Benefit the People of Puerto Rico)
"Unforgiven," by Hilary Davidson (appearing in Murder a-Go-Gos: Crime Fiction Inspired by the Music of the Go-Gos)
"The Red Zone," by Alex Segura (appearing in ¡Pa'que Tu Lo Sepas!: Stories to Benefit the People of Puerto Rico)
"Better Days," by Art Taylor (appearing in Ellery Queen Mystery Magazine, May/June 2019)
"Hard Return," by Art Taylor (appearing in Crime Travel)
BEST ANTHOLOGY OR COLLECTION
The Eyes of Texas: Private Eyes from the Panhandle to the Piney Woods, edited by Michael Bracken (Down & Out Books)
¡Pa'que Tu Lo Sepas!: Stories to Benefit the People of Puerto Rico, edited by Angel Luis Colón (Down & Out Books)
Crime Travel, edited by Barb Goffman (Wildside Press)
Malice Domestic 14: Mystery Most Edible, edited by Verena Rose, Rita Owen, and Shawn Reilly Simmons (Wildside Press)
Murder A-Go-Go's: Crime Fiction Inspired by the Music of the Go-Gos, edited by Holly West (Down & Out Books)
BEST YOUNG ADULT**
Seven Ways to Get Rid of Harry, by Jen Conley (Down & Out Books)
Catfishing on CatNet, by Naomi Kritzer (Tor Teen)
Killing November, by Adriana Mather (Knopf Books for Young Readers)
Patron Saints of Nothing, by Randy Ribay (Kokila)
The Deceivers, by Kristen Simmons (Tor Teen)
Wild and Crooked, by Leah Thomas (Bloomsbury YA)
** This year, there are two categories with more than five nominees. This is the result of a tie for fifth place. When this occurs, according to Bouchercon standing rules, all of the authors who have tied become nominees.
Bouchercon, the World Mystery Convention, is a nonprofit, all-volunteer organization that holds an annual convention attended by readers, writers, publishers, editors, agents, booksellers, and other lovers of crime fiction. Its annual Anthony Awards are named for writer and book critic Anthony Boucher and are one of crime fiction's most prestigious and coveted awards.