Actually, Francine Mathews, author of the Merry Folger Nantucket Mysteries, was talking about "A Tide of Murder: Detective Novels Set on New England's Cape and Islands" for CrimeReads, https://bit.ly/2Tj3noi. She'll also be talking about Nantucket and her latest mystery, Death on Tuckernuck, when she appears for a virtual event on Saturday, June 6 at 1 PM MST. You'll be able to "attend" at the Poisoned Pen's Facebook page.
Here's the latest Merry Folger Nantucket mystery. There are signed copies available through the Web Store. https://bit.ly/2Zf0o3T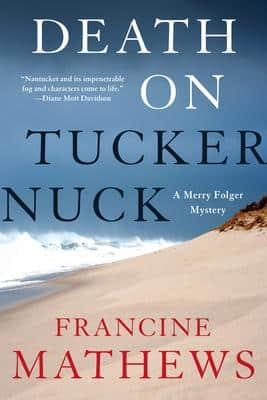 In the Category 3 winds of a late-season hurricane, Nantucket police detective Merry Folger and her team attempt a rescue off the secluded island of Tuckernuck—only to discover a deadly secret.
 
As a Category 3 hurricane bears down on Nantucket, Dionis Mather and her father have their work cut out for them. Their family business is to ferry goods and people back and forth from Tuckernuck, the private island off Nantucket's western tip, a place so remote and exclusive that it is off the electric grid. As caretakers of the small plot of sand in the middle of the Atlantic, the Mathers are responsible for evacuating Tuckernuck's residents, who range from a stubborn elderly native who refuses to leave her family home to the abandoned summer house pets of an absentee NFL quarterback. But as the storm surge rises and the surf warnings mount, Dionis has to make a choice: abandon whatever—or whoever—was left behind, or risk her own life by plunging back into the maelstrom. Even she has no idea what evil the hurricane is sheltering.
 
When the coast guard notifies the Nantucket police of a luxury yacht grounded in the shoals off Tuckernuck's northern edge—with two shooting victims lying in the main cabin—detective Meredith Folger throws herself into an investigation before the hurricane sweeps all crime-scene evidence out to sea. Merry is supposed to be on leave this weekend, dancing at her own wedding, but the Cat 3 has thrown her blissful plans into chaos. As her battered house fills with stranded wedding guests and flood waters rise all over Nantucket Island, Merry has her own choice to make: How much should she risk in order to bring a criminal to justice?