Barbara Peters, owner of The Poisoned Pen, recently had a book chat with one of my favorite people – notice I said one of my favorite people, not just a favorite author. Hank Phillippi Ryan has won five Agatha Awards, in addition to the Anthony, Macavity, Daphne du Maurier, and Mary Higgins Clark Award for her bestselling mystery novels. As an investigative reporter, her work has resulted in new laws, criminals sent to prison, homes saved from foreclosure, and millions of dollars in restitution for victims and consumers. Along with her 36 Emmys and 14 Edward R. Murrow awards, Hank has received dozens of other honors for her ground-breaking journalism. A former president of Sisters in Crime and founder of MWA University, she lives in Boston with her husband, a nationally renowned civil rights and criminal defense attorney. She is the author of Trust Me, and the Jane Ryland series (The Other Woman, The Wrong Girl, Truth be Told, Say No More and What You See). And, she is kind (unless she's investigating you, I'm sure.)
Ryan's latest book, The Murder List, a USA Today bestseller, will be released in June in paperback. Here's The Murder List.
The Murder List is a new standalone suspense novel in the tradition of Lisa Scottoline and B. A. Paris from award-winning author and reporter Hank Phillippi Ryan.
"An exhilarating thrill ride that keeps you turning pages…Ryan deftly delivers a denouement as shocking as it is satisfying."–Liv Constantine, bestselling author of The Last Mrs. Parrish and The Last Time I Saw You
Law student Rachel North will tell you, without hesitation, what she knows to be true. She's smart, she's a hard worker, she does the right thing, she's successfully married to a faithful and devoted husband, a lion of Boston's defense bar, and her internship with the Boston DA's office is her ticket to a successful future.
Problem is–she's wrong.
And in this cat and mouse game–the battle for justice becomes a battle for survival.
Hank Phillippi Ryan's next book, The First to Lie, is scheduled for August release. You can pre-order it now, and order her other books in the Web Store. https://bit.ly/2RXT88e
Here's the summary of The First to Lie.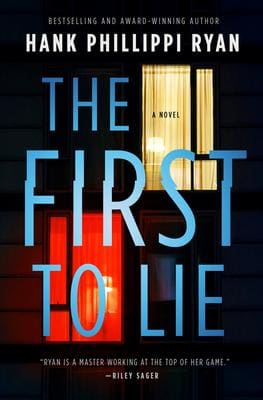 Bestselling and award-winning author and investigative reporter Hank Phillippi Ryan delivers another twisty, thrilling cat and mouse novel of suspense that will have you guessing, and second-guessing, and then gasping with surprise.
We all have our reasons for being who we are—but what if being someone else could get you what you want?
After a devastating betrayal, a young woman sets off on an obsessive path to justice, no matter what dark family secrets are revealed. What she doesn't know—she isn't the only one plotting her revenge.
An affluent daughter of privilege. A glamorous manipulative wannabe. A determined reporter, in too deep. A grieving widow who must choose her new reality. Who will be the first to lie? And when the stakes are life and death, do a few lies really matter?
*****
Enjoy the book chat between Hank Phillippi Ryan and Barbara Peters as they talk about thrillers, the news, and the current world situation.