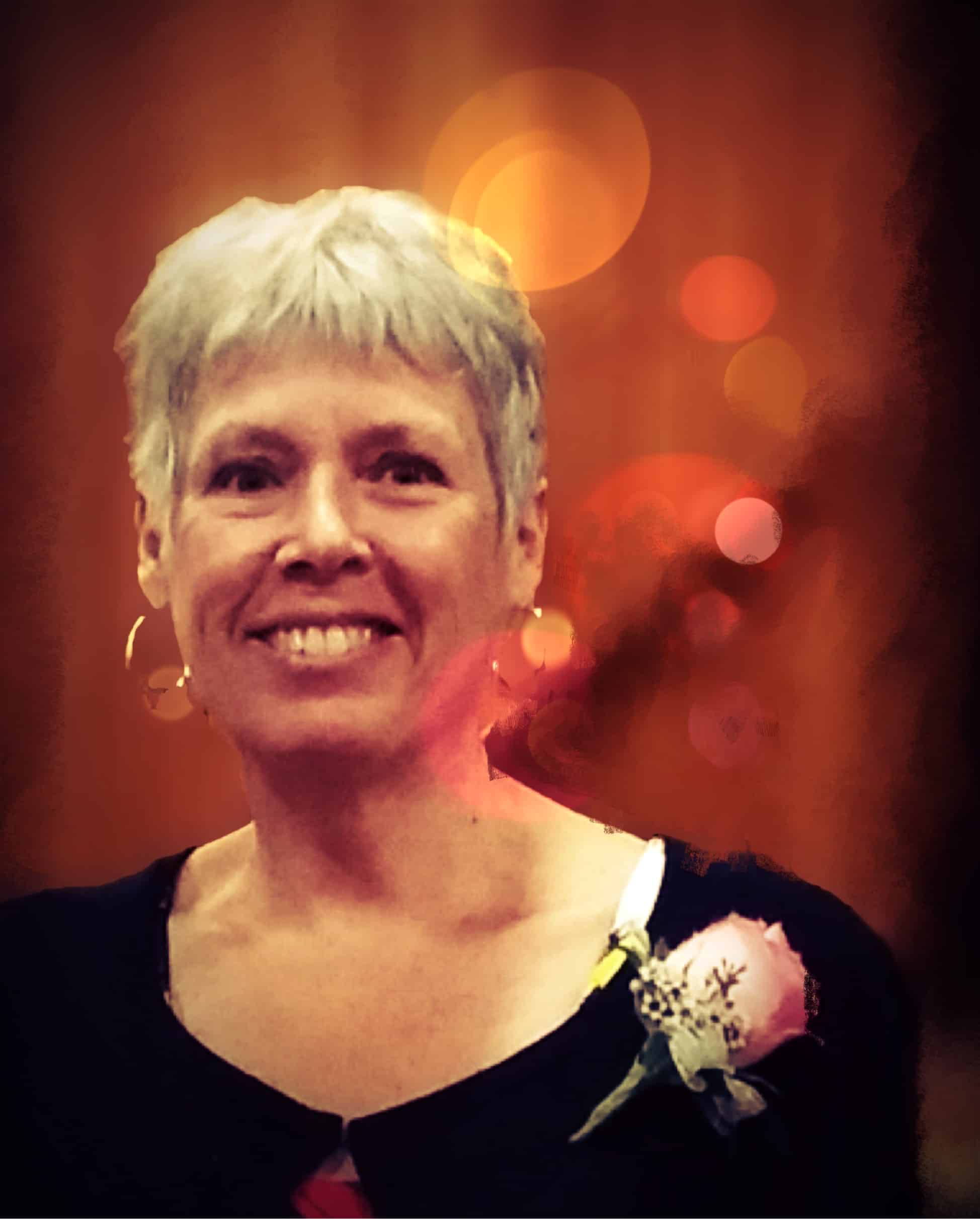 I won't tell you how many years Vicki Delany and I have known each other, but I'm always grateful when she agrees to write a piece. Today, she's going to talk about her book "Distractions".
Vicki Delany is one of Canada's most prolific and varied crime writers and a national bestselling author in the United States. She is currently writing four cozy mystery series: the Tea by the Sea mysteries, the Sherlock Holmes Bookshop series, the Year-Round Christmas mysteries and, as Eva Gates, the Lighthouse Library series. Vicki lives and writes in bucolic Prince Edward County, Ontario. She is a past president of Crime Writers of Canada and a co-organizer of Women Killing It, a crime writing festival. Her work has been nominated for the Derringer, the Bony Blithe, the Ontario Library Association Golden Oak, and the Arthur Ellis Awards. She is the recipient of the 2019 Derrick Murdoch Award for contributions to Canadian crime writing.
Check for Vicki Delany's books, and the books she suggests, in the Web Store. https://store.poisonedpen.com/
*****
I don't know if you can call the books I've been reading lately distractions. Almost the opposite of! Because I've been reading fiction about plague times. You know The Plague "" the Bubonic Plague that killed between one third and one half of the population of Europe and countless others elsewhere in the Middle Ages.
Why on earth am I reading that stuff now? Because I believe it's vital to remember what has happened and thus what can happen.
The first two of these books I read long ago, and when the news started to get serious about the impact of the Coronavirus, I remembered them and read them again.
Year of Wonders by Geraldine Brooks.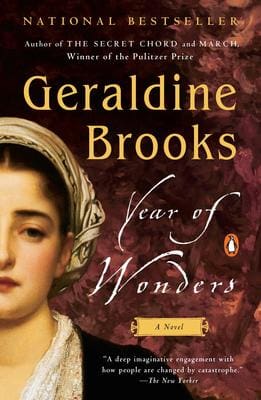 This beautifully written and imagined novel is based on something that actually happened in England in 1666. The Great Plague was decimating London but things in the countryside were largely safe.   Infected fleas arrived wrapped up in cloth brought by a tailor newly arrived in the village.  And, of course, from there it spread rapidly throughout the immediate area.
The townspeople, under the leadership of their church minister, decided voluntarily to quarantine themselves. No one in. No one out. The Lord of the area agreed to leave supplies at a designated spot outside the town at regular intervals. They passed the year, dying in great numbers. But ultimately, when the plague had exhausted itself and the roads were opened, the neighbouring towns had been untouched.
A truly inspiring story, that reminds us of the importance of sticking together in difficult times.
The Plague Tales, The Burning Road, The Physician's Road by Ann Benson.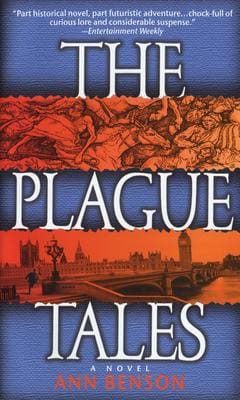 This trilogy has two time lines: 14th century Europe and 21st Century UK and US.  The historic tale is that of a Spanish Jewish doctor dealing with the plague, and the 21st an American doctor struggling against modern plague.  The 21st century story didn't appeal too me too much on second reading, partly because it was written in 1997 and her "˜future' is 2005. I'm not a big reader of speculative fiction, and the future world in this book didn't appeal to me.  But the themes of struggling against an unknown disease and a suddenly unfamiliar world are still valid.
(Bubonic Plague was really a dreadful disease! The deaths were horrific, and in a time with no painkillers and no antibiotics. The descriptions of such in these two books are rather grim.)
The Glass Hotel by Emily St John Mandel and Station Eleven by Emily St. John Mandel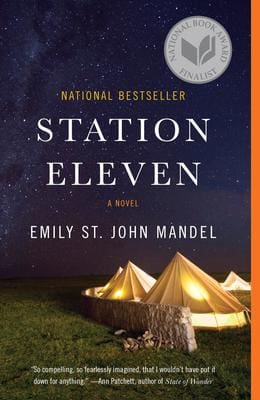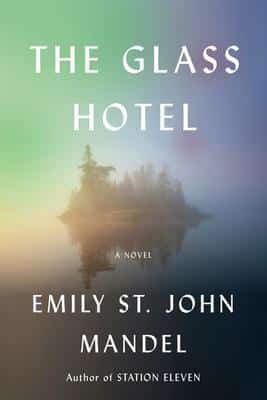 Mandel is best known for her "˜plague' book Station Eleven, and The Glass Hotel her newest novel.  I read Station Eleven a couple of years ago and loved it.  It's not so much a book about a pandemic of terrifying proportions and the end of civilization as we know it, although it does touch on how it arrived and how it spread, but the aftermath, set 25 years after a previously unknown flu has killed 99% of the population (take that all of you who think we're over-reacting to Covid-19!)  
The Glass Hotel is set in the "˜real' world that appears to have nothing to do with Station Eleven, but it contains one passage that made me sit up straight: "Imagining an alternate reality… where the terrifying new swine flu in the Republic of Georgia hadn't been swiftly contained." Which is exactly what did happen in the world of Station Eleven!
A neat trick of twisting reality, that.  I only wish we could do that with Covid-19.  Then again, as these books remind us, things can be a heck of a lot worse.
*****
Vicki Delany's own books are not at all similar to what she's been reading. There's a Murder Afoot is the most recent title in her Sherlock Holmes Bookshop mystery series.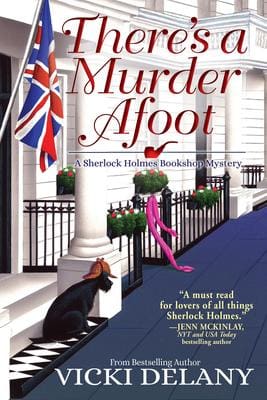 Just in time for Sherlock Holmes's 166th birthday, the fifth installment in national bestselling author Vicki Delany's Sherlock Holmes Bookshop mystery takes Sherlockania to the max with a Holmes convention and historic 221 Baker Street.
Gemma Doyle and her friends travel to London for a Sherlock Holmes convention–but will Gemma's father take the fall for a felonious forger's fatality?
The 6th of January is Sherlock Holmes's birthday, and lucky for Gemma Doyle, January is also the slowest time of the year at both the Sherlock Holmes Bookshop and Emporium, and Mrs. Hudson's Tea Room. It's a good time for Gemma and her friends to travel to England for a Holmes Convention. For Gemma, the trip provides an opportunity to visit her parents, Jayne Wilson is excited about seeing all the sites London has to offer, and Ryan Ashburton just wants to spend some time with Gemma. But the trip is immediately derailed when Gemma's father Henry recognizes his brother-in-law Randolph Denhaugh, who disappeared more than thirty years ago on the night he stole a valuable painting from his own parents.
Henry, a retired detective with Scotland Yard, has been keeping tabs on the man's career as a forger of Old Masters and he warns Randy to stay away from his family. It's up to Gemma, with the help of her friends, to plunge into the "lowest and vilest alleys" of London to save her father from prison.
*****
In July, Delany will launch a new series. The Tea by the Seas series begins with Tea & Treachery.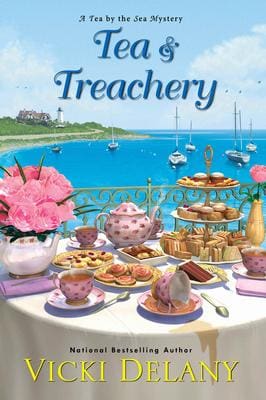 In this charming new cozy mystery series from nationally bestselling author, Vicki Delany, a New York City expat-turned-Cape Cod tea shop owner must solve the murder of a local real estate developer to help her feisty grandmother out of a jam . . .
 
As the proud proprietor and head pastry chef of Tea by the Sea, a traditional English tearoom on the picturesque bluffs of Cape Cod, Roberts has her hands full, often literally. But nothing keeps her busier than steering her sassy grandmother, Rose, away from trouble. Rose operates the grand old Victorian B & B adjacent to Lily's tea shop . . . for now. An aggressive real estate developer, Jack Ford, is pushing hard to rezone nearby land, with an eye toward building a sprawling golf resort, which would drive Rose and Lily out of business.
 
Tempers are already steaming, but things really get sticky when Ford is found dead at the foot of Rose's property and the police think she had something to do with his dramatic demise. Lily can't let her grandmother get burned by a false murder charge. So she starts her own investigation and discovers Ford's been brewing bad blood all over town, from his jilted lover to his trophy wife to his shady business partners. Now, it's down to Lily to stir up some clues, sift through the suspects, and uncover the real killer before Rose is left holding the tea bag.
*****
Look for Vicki Delany's books in the Web Store. https://bit.ly/2KJCKa6