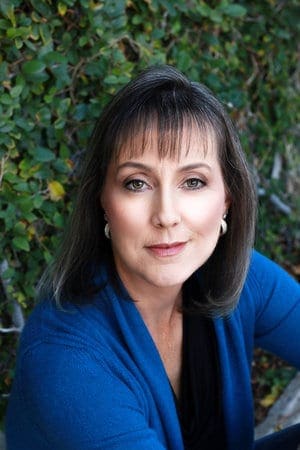 Maybe you know Jenn McKinlay as the author of the Cupcake Bakery mysteries, including the newly released Pumpkin Spice Peril. The eleventh book in her Library Lover's Mystery series, One for the Books, is scheduled for a September release. Buried to the Brim, her sixth Hat Shop Mystery, came out in January. You may want to watch for her July release, a romantic comedy, Paris is Always a Good Idea. All of those books are available through the Poisoned Pen Web Store, along with Jenn's other titles. https://bit.ly/2v0jw8V
Former librarian Jenn McKinlay is the New York Times and USA Today bestselling author of the Bluff Point Romances, including Every Dog Has His Day, Barking Up the Wrong Tree, and About a Dog, as well as the Library Lover's Mysteries, the Cupcake Bakery Mysteries, and the Hat Shop Mysteries. Jenn lives in sunny Arizona in a house that is overrun with kids, pets, and her husband's guitars. She's one of the writers who blogs at https://www.jungleredwriters.com/, and her website is https://www.jennmckinlay.com/
Although Jenn McKinlay has a busy writing and family life, she still made time to write a book "Distractions" piece. (Jenn probably doesn't need distractions.) You can find the books she suggests in the Web Store. https://store.poisonedpen.com/
*****
I don't know about you, but quarantine in the frat house in which I reside, is getting pretty old. I am the lone female (if you don't count one of the dogs and two of the cats) in a house full of dude. This means the volume knobs on the guitars, video games, and televisions are high, the seat is frequently left up, and no one picks up anything. Ever. It just stays where they leave it, be it dirty socks, a basketball, or the plate or glass they were just using. I don't think I ever noticed this until we were forced to cohabit 24/7.
While having a minor hissy fit the other morning, I yelled at one of them, "Put your dirty dishes in the dishwasher. We don't have house elves!" The Hooligan clapped a hand over his heart and gasped, "You gave them clothes?"
Yeah, it's hard to stay mad when you're laughing. Still, I was forced to raise my game and recently dusted off the ping pong table. Now we've turned ping pong into a blood sport with our highly competitive matches to determine who's cooking dinner, because Mama is over it!
Thankfully, I've had a nice stash of books to read over quarantine, which has likely saved lives. Her are three of my favorites:
Hid from Our Eyes by Julia Spencer-Fleming: This is the ninth book in the Claire Fergusson and Russ Van Alstyne series but it can easily be read as a stand alone. Set across three different time lines with three identical murders, it is a compulsive read. The stakes are high and I was equally invested in each of the story lines. Per usual, this author wraps up the murder with a stunning twist, and leaves the reader wanting more. I can't wait for book ten.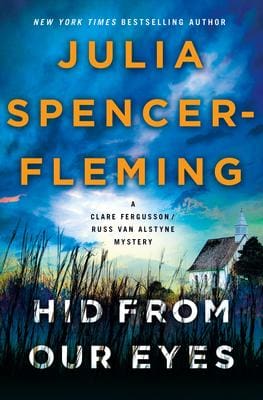 A Deadly Inside Scoop by Abby Colette: This is a delightful cozy mystery that I was fortunate enough to get a sneak peek at. Colette pens a mystery that is witty and wonderful, with old enemies and new beginnings all woven around a small ice cream shop with a story that is just delicious. Her amateur sleuth, Bronwyn Crewse, is feisty and fun and I enjoyed every minute I spent with her.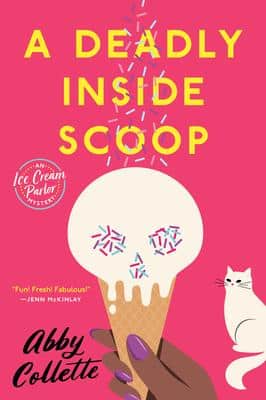 Real Men Knit by Kwana Jackson: As a knitter, this book delighted me on so many levels. Reading a women's fiction romance set around saving a neighborhood yarn shop felt very on point for the times we're living in and, yet, this book was so hopeful and lovely. I found myself rooting for Jesse and Kerry and their mission to save their beloved Mama Joy's yarn shop, Strong Knits, after her unexpected passing. It's a touching story that will lift you up and make you smile.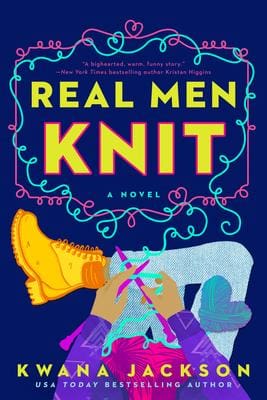 ****
I don't want you to miss Jenn's own books with her trademark humor. Find them in the Web Store. https://bit.ly/2v0jw8V
The latest Cupcake Bakery mystery, Pumpkin Spice Peril, came out at the end of April.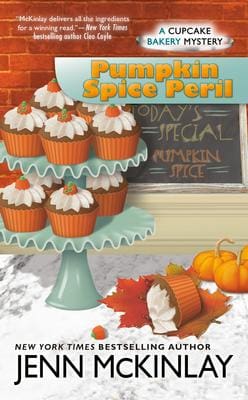 In the twelfth Cupcake Bakery Mystery from New York Times bestselling author Jenn McKinlay, the Fairy Tale Cupcake crew follows the clever crumb trail of a killer who's anything but cookie-cutter.
Life is all sugar and spice for the Fairy Tale Cupcake bakers–Melanie Cooper is engaged to the delectable Joe DeLaura, Angie Harper and her husband Tate are savoring married life, and the bakery is bustling with happy customers. Until one of their most valued cupcake connoisseurs ends up dead.
Local glass artist and cupcake lover Rene Fischer-Klein has always suffered from a wide variety of health issues. In an effort to cheer her up, her doting husband, Peter, brings her a four-pack of her favorite cupcakes every week. But when the police discover that Rene has been poisoned, there's no sugarcoating the fact that the last things she ate were the bakery's signature pumpkin spice cupcakes! With their lives and bakery at stake, it's up to Mel and Angie to find out who poisoned their artist friend and why, before their future is frosted for good.
*****
If you didn't catch it in hardcover, Library Lover's Mystery #10, Word to the Wise, is released in paperback at the end of June.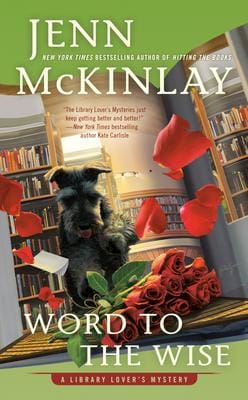 It's no-holds-barred murder…
 
Lindsey Norris is finally getting married to the man of her dreams—but it's not all roses for Briar Creek's beloved library director, as town newcomer Aaron Grady gives the term "book lover" a whole new meaning. Inappropriate looks and unwelcome late-night visits to Lindsey's house have everyone from the crafternooners to Lindsey's fiancé, Sully, on edge.
 
When Grady's dead body is found outside the library and all the clues point to Sully, Lindsey knows it's up to her to find the real culprit and clear Sully's name. But becoming a thorn in the killer's side is not without its consequences, and the closer Lindsey gets to the truth, the more determined the murderer is to make her just a footnote.
*****
And, if you're a fan of contemporary romantic comedies, you'll want to watch for Jenn McKinlay's Paris is Always a Good Idea, due out in July.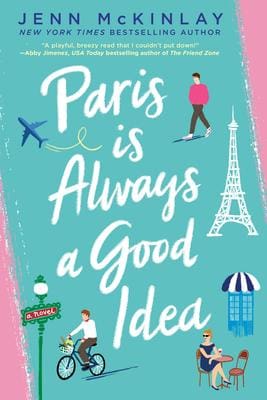 A thirty-year-old woman retraces her gap year through Ireland, France, and Italy to find love—and herself—in this hilarious and heartfelt novel.
It's been seven years since Chelsea Martin embarked on her yearlong postcollege European adventure. Since then, she's lost her mother to cancer and watched her sister marry twice, while Chelsea's thrown herself into work, becoming one of the most talented fundraisers for the American Cancer Coalition, and with the exception of one annoyingly competent coworker, Jason Knightley, her status as most successful moneymaker is unquestioned.
When her introverted mathematician father announces he's getting remarried, Chelsea is forced to acknowledge that her life stopped after her mother died and that the last time she can remember being happy, in love, or enjoying her life was on her year abroad. Inspired to retrace her steps—to find Colin in Ireland, Jean Claude in France, and Marcelino in Italy—Chelsea hopes that one of these three men who stole her heart so many years ago can help her find it again.
From the start of her journey nothing goes as planned, but as Chelsea reconnects with her old self, she also finds love in the very last place she expected.