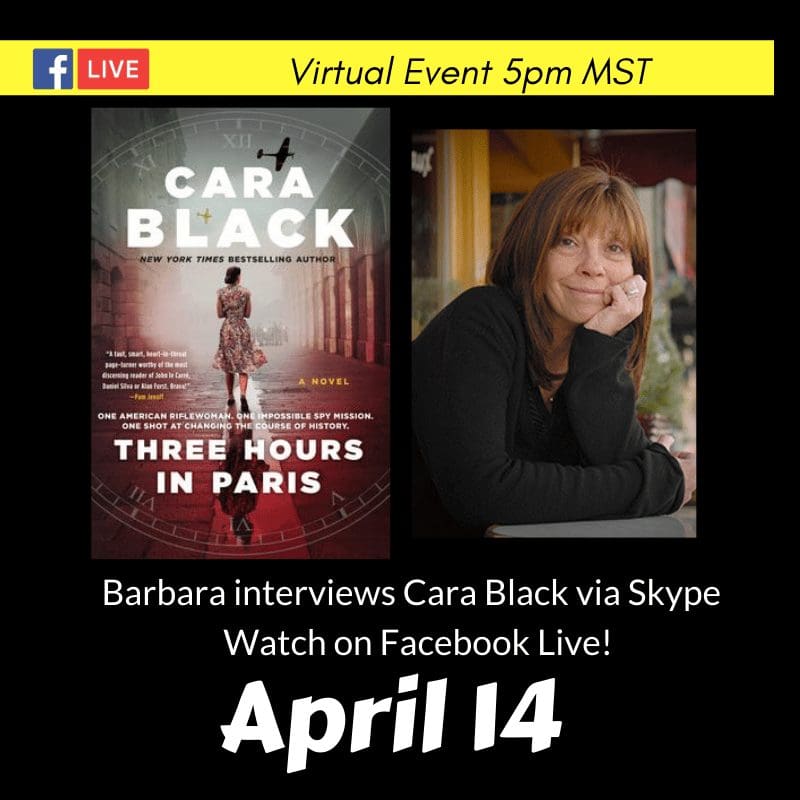 You'll want to "attend" the virtual event in which Cara Black will talk about her Hot Book of the Week, the standalone Three Hours in Paris. It's a re-imagined event. Cara Black discusses Three Hours in Paris with Barbara via Skype, for live broadcast Tuesday, April 14 at 5 PM MST on our Facebook Channel. Watch it in real time or check it out later on FB or Youtube! We will have signed books, so reserve your copy at the Web Store now. https://bit.ly/2Rs8PEs You can also order copies of Black's Aimee Leduc Investigation novels from the Web Store.
Three Hours in Paris is the current Hot Book of the Week. Check out the description, and plan to watch the event on April 14.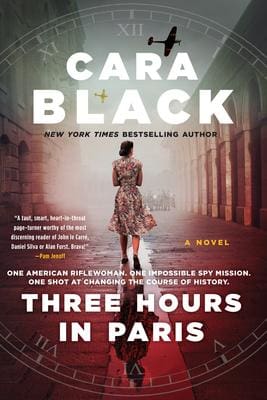 In June of 1940, when Paris fell to the Nazis, Hitler spent a total of three hours in the City of Light—abruptly leaving, never to return. To this day, no one knows why.
The New York Times bestselling author of the Aimée Leduc investigations reimagines history in her masterful, pulse-pounding spy thriller, Three Hours in Paris.
Kate Rees, a young American markswoman, has been recruited by British intelligence to drop into Paris with a dangerous assignment: assassinate the Führer. Wrecked by grief after a Luftwaffe bombing killed her husband and infant daughter, she is armed with a rifle, a vendetta, and a fierce resolve. But other than rushed and rudimentary instruction, she has no formal spy training. Thrust into the red-hot center of the war, a country girl from rural Oregon finds herself holding the fate of the world in her hands. When Kate misses her mark and the plan unravels, Kate is on the run for her life—all the time wrestling with the suspicion that the whole operation was a set-up.
Cara Black, doyenne of the Parisian crime novel, is at her best as she brings Occupation-era France to vivid life in this gripping story about one young woman with the temerity—and drive—to take on Hitler himself.
*Features an illustrated map of 1940s Paris as full color endpapers