In her recent article in The New York Times, Danielle Trussoni ended her column, "Gothic Horror Fiction, Old and New", with the comment "Escapism at its best". That's exactly what we need right now, escapism. You can read Trussoni's column here. https://nyti.ms/3cZ6Tfw
One of the books she discusses is the Sourcebooks/Poisoned Pen Press edition of The Phantom of the Opera. You can find it in the Web Store. https://bit.ly/38SnWN2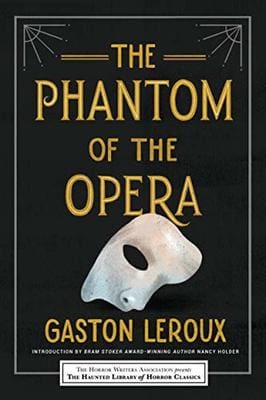 Here's the summary of the new release.
The first in the Haunted Library Horror Classics series presented by the Horror Writers Association. An unabridged edition of the novel that inspired the famous Andrew Lloyd Weber musical.
Deep beneath the Paris Opera House, a masked man lives in silence…
Every night at the Palais Garnier, hundreds of guests sit on the edge of velvet-covered seats, waiting for prima donna La Carlotta to take the stage. But when her voice fails her, La Carlotta is replaced with unknown understudy Christine Daaé, a young soprano whose vibrant singing fills every corner of the house and wins her a slew of admirers, including an old childhood friend who soon professes his love for her. But unknown to Christine is another man, who lurks out of sight behind the heavy curtains of the opera, who can move about the building undetected, who will do anything to make sure Christine will keep singing just for him…
This curated edition of The Phantom of the Opera, based on the original 1911 English translation by Alexander Teixeira de Mattos, brings an iconic story of love and obsession to today's readers and illuminates the timeless appeal of Leroux's masterpiece.