There's always so much to talk about when authors appear at The Poisoned Pen. Steve Berry, author of The Warsaw Protocol, was the first author to appear at the bookstore after Clive Cussler's death. He and Barbara Peters, owner of the bookstore, discussed Cussler's kindness to other authors, his contributions to the International Thrillers Writers, and Thrillerfest itself. Then, of course, they talked about Poland and Berry's book, The Warsaw Protocol. You can order signed copies of that book, and copies of his other books through the Web Store. https://bit.ly/32UZtFA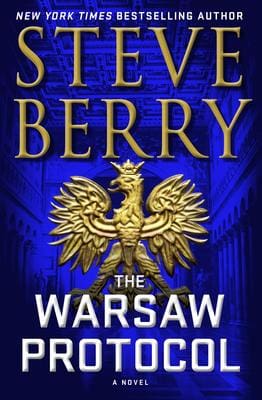 Here's the description of the latest Cotton Malone book.
In New York Times bestseller Steve Berry's latest Cotton Malone adventure, one by one the seven precious relics of the Arma Christi, the weapons of Christ, are disappearing from sanctuaries across the world.
After former Justice Department agent Cotton Malone witnesses the theft of one of them, he learns from his old boss, Stephanie Nelle, that a private auction is about to be held where incriminating information on the president of Poland will be offered to the highest bidder—blackmail that both the United States and Russia want, but for vastly different reasons.
The price of admission to that auction is one of the relics, so Malone is first sent to a castle in Poland to steal the Holy Lance, a thousand-year-old spear sacred to not only Christians but to the Polish people, and then on to the auction itself. But nothing goes as planned and Malone is thrust into a bloody battle between three nations over information that, if exposed, could change the balance of power in Europe.
From the tranquil canals of Bruges, to the elegant rooms of Wawel Castle, to deep beneath the earth into an ancient Polish salt mine, Malone is caught in the middle of a deadly war—the outcome of which turns on a secret known as the Warsaw Protocol.
*****
You'll want to eavesdrop on the conversation.