There's so much to love about Russ Thomas' debut. First, a title called Firewatching is the Hot Book of the Week at The Poisoned Pen. And, it's a police procedural! It's a little late to mention that Thomas will be at The Pen on Thursday, March 5 at 7 PM, joining John McMahon (The Evil Men Do), and Don Bentley (Without Sanction). You can order copies of all the books through the Web Store, https://store.poisonedpen.com/, but you can order signed copies of that hot debut here. https://bit.ly/2uXnM9u
The troubled characters in Firewatching reminded me of Ann Cleeves' characters. If you read it, see what you think.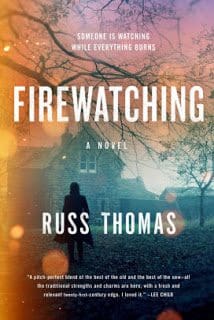 "A pitch-perfect blend of the best of the old and the best of the new–all the traditional strengths and charms are here, with a fresh and relevant twenty first-century edge. I loved it."–Lee Child

A taut and ambitious police procedural debut introducing Detective Sergeant Adam Tyler, a cold case reviewer who lands a high-profile murder investigation, only to find the main suspect is his recent one-night stand . . .
When financier Gerald Cartwright disappeared from his home six years ago, it was assumed he'd gone on the run from his creditors. But then a skeleton is found bricked up in the cellar of Cartwright's burned-out mansion, and it becomes clear Gerald never left alive.
As the sole representative of South Yorkshire's Cold Case Review Unit, Detective Sergeant Adam Tyler is not expected to get results, but he knows this is the case that might finally kick start his floundering career. Luckily, he already has a suspect. Unluckily, that suspect is Cartwright's son, the man Tyler slept with the night before.
Keeping his possible conflict-of-interest under wraps, Tyler digs into the case alongside Amina Rabbani, an ambitious young Muslim constable and a fellow outsider seeking to prove herself on the force. Soon their investigation will come up against close-lipped townsfolk, an elderly woman with dementia who's receiving mysterious threats referencing a past she can't remember, and an escalating series of conflagrations set by a troubled soul intent on watching the world burn . . .